The Northern Utah WebSDR

Latest news and current issues
Recent events and resolved issues:
16 May, 2021: Brief WebSDR outage and severe static due to locally-intense spring thunderstorms.

It was reported by our ISP that one of the buildings at a location housing one of their mains sites took a direct lightning strike, causing their network gear to reboot, impacting the WebSDR's connectivity for a few minutes: Other than some non-essential monitoring equipment

(a remote voltmeter monitoring the mains power)

, everything seems to come up normally again. A site inspection will occur soon to check for hidden damage and make sure things are as they should be.


This same site was rebuilt and upgraded in the past few weeks - including the addition of better grounding, bonding, AC mains conditioning and lighting protection - and it seems to have just paid for itself several times over!


Meanwhile, at the WebSDR site, it was surrounded on all sides by lots of scary lightning

(very very frightening!)

making most of the LF, MF and HF receivers pretty much unusable in the short-term due to the very high static and noise level.

With the thunderstormstorm accompanied by precipitation, the rain static on WebSDR #4

(magenta)

has been intermittently extreme - because physics!
12 May, 2021: WebSDR outages to become less frequent:

The majority of the work to upgrade network infrastructure being conducted by our ISP is nearing completion. With the vast majority of new equipment installed and configured and cut-overs completed, it is expected that there will be no more lengthy outages.

As the final stages up upgrades are completed and network reconfiguration is done, additional, brief outages are likely.

7 May, 2021: WebSDR outage due to upgrades.
3 May, 2021: WebSDR outages to occur.

Starting 3 May, 2021

expect one or more outages of signficant duration while significant infrastructure upgrades are undertaken by our Internet Service Provider. The upgrades include adding overall capacity and increasing options for redundancy - all of which should improve performance to the WebSDR and other customers.
30 April, 2021: Comment on audio "warble", clicking or stuttering when using the Chrome browser or its derivatives:


In March/April an update of the

CHROME

browser was rolled out - apparently with some sort of bug: This bug seems to affect Windows-based systems more than IOS/Apple. The problem appears to be one related to audio samples from the WebSDR - processed by the Javascript interpreter in the browser - are not being fed properly to the sound card, being dropped and/or repeated

(e.g. stuttering)

. The result of this is what has been described as a "warble" when listening to CW or other modes in which one is hearing a tone from a transmitted signal - which can include SSTV or digital modes like FT-8, FT-4 and PSK31.

Problems caused by this can include:

Disruption/distraction in copying Morse code.

Corruption of a digital signal: This can make copying of FT-8, FT-4, PSK31 or SSTV signals problematic.

In severe cases, one can hear odd stuttering on SSB or AM signals - and possibly odd clicking.

Work-arounds:

DO NOT

use Chrome browser - or browsers based on it.

The use of

Firefox

or its related browsers

(e.g. SeaMonkey, Pale Moon)

is suggested as they do

NOT

seem to be affected by this problem.


If you are using Chrome, don't open any more tabs/windows in the browser than absolutely necessary.

Avoid, as much as possible, the use of other programs while using Chrome to listen to a WebSDR.

This bug has reportedly been identified and a fix is in consideration for future versions of the Chrome browser.
10 April, 2021: Scheduled service interruptions.

Infrastructure upgrade: There was a scheduled outage window that started between 8 PM and midnight and could have persisted for up to six hours after the start. The reason for this outage was the complete overhaul of one of the main connectivity points by our ISP in which

(much of)

the equipment was replaced. Because of physical and practical limitations, the old gear had to be removed prior to the new gear being put into place and connected rather than a simple "cut over".
18 February, 2021: Scheduled service interruptions.

Firmware upgrade:

In the early morning of 18 February, the connectivity to the receivers at the Northern Utah WebSDR was interrupted to update firmware on network gear. This outage lasted roughly 5 minutes.

Maximum users on WebSDR #1 increased:

WebSDR #1

(Yellow)

was also restarted to effect a configuration change that increased the maximum number of users from 150 to 200 as this limit had been observed to have been reached on several occasions.

27 January, 2021: Service interruptions.

One of the upstream Internet service providers has been having utility power issues, reportedly causing one or more service outages. They are continuing to experience issues, but repairs are underway.
24 January, 2021: Comments.

Maximum number of users on WebSDR #1 increased:

It was noted that the number of users on WebSDR #1

(

Yellow

)

- which had been set to 125 - was being reached during peak hours. During the very early hours on this day this number was increased to 150 - a task that required restarting the WebSDR service which, unfortunately, inconvenienced about 50 users at the time:

Sorry about that - but there's really no other way to make this type of change.

Alternate servers:

It's worth noting that if you encounter a "full" WebSDR server at Northern Utah, you have several options:

For 80 meters:

If

WebSDR #1

is full, try

WebSDR #3

(Blue)

. It's receiver's performance isn't quite as good as #1 even though it uses the same antenna, but it would be fine in most situations.

For 40 meters:

If

WebSDR #1

is full, try

WebSDR #3

(Blue)

for the same, omni antenna - or you might try

WebSDR #4

(Magenta)

for a high-performance receiver on an east-pointing beam.

For 20 meters:

If either

WebSDR #2

(Blue)

or

WebSDR #4

(Magenta)

is full, try the "other" receiver:

WebSDR #2

uses the omni antenna and

WebSDR #4

uses the east-pointing beam.

WebSDR outages due to network infrastructure:

There were several outages on this day due to upgrades to the equipment on part of our Internet Service provider to improve performance and reliability. The duration of these outages was minimized as much as practical.

13 December, 2020: Frequency stabilization code tweaked to correct for sample rate errors.

After a few days of operation and tweaking of values, I observed that the frequency drift had been minimized - but I noticed something else: An odd frequency offset on the "40PH" receiver on WebSDR #1.

The problem was tracked down to the sample rate of this receiver being about 50 Hz below the nominal 192 kHz, causing about a 25 Hz error at the band edges, becoming proportionally less toward the center where it became zero.

The solution was the addition of some code that applies a correction to the RF frequency to which a user's virtual receiver is tuned. This correction factor has been applied to WebSDR #1's "40PH" and I will apply these to other receivers as necessary.

9 December, 2020: Frequency stabilization measures applied.

On this day, frequency stabilization measures were applied to the "FifiSDR" and the "Softrock Ensemble" receivers as they have been observed to drift several 10s of Hz over the wide temperature range in the unheated/uncooled building containing the WebSDR's receive equipment.

These devices use the Si570 synthesizer as their frequency source and thus do

not

have a means of temperature compensation, nor can an external frequency reference

(oven-based oscillator, GPS frequency reference)

be directly applied to them.


This system works by reading the internal temperature of the WebSDR building and looking up the appropriate local oscillator frequency for that temperature in a table and applying it to the appropriate receiver with a temperature resolution of 1 degree Fahrenheit and a frequency resolution of 1 Hz.

Such frequency corrections are applied at the

beginning

of every minute that is

divisible by four

(e.g. 0, 4, 8, 12...)

This timing was chosen to avoid degradation of reception of data modes that might be adversely affected by a frequency shift during the transmit/receive period - specifically WSPR, FT-8 and FT-4.
The magnitude of frequency shift is typically 1 Hz - although with very rapid temperature swings

(e.g. operation of the in-building heater or air-conditioning)

the frequency may be be changed in 3 Hz steps at each four minute interval.
The possibility of an on-site, precise, remotely-controlled signal generator has been discussed. Were this done, a precise frequency would be generated and measured by the receiver to determine the frequency offset. If the current temperature-based frequency compensation method is insufficient, we will revisit this possibility.

6 December, 2020: WebSDR outage
5 December, 2020: VFO A/B feature added.
4 December, 2020: Comments about background noise.

Users of the Northern Utah WebSDR may have noticed a somewhat elevated background noise level. While some of this is due to the recently-increased solar activity, some of it is power line related noise. Specifically, noise on some of the higher bands

(e.g. 20 meters)

has increased somewhat.

A temporary increase in noise at the Northern Utah WebSDR has occurred in the past - and at least some of it is due to peculiarities of local weather and geography. Located near the Great Salt Lake, the areas around the lake are subjects to blowing dust and "mud rain" caused by wind blowing across large areas of barren land exposed by the receding Great Salt Lake. This blowing dust - and the the "mud rain" that often accompanies brief rain storms - tends to coat everything outside - including insulators on the power lines, causing leakage paths and addition noise, not to mention exacerbating issues with marginal hardware.

The result of this is often the increase of power line noise, which can propagate for miles in some cases.

Usually, much of this noise will subside after a heavy rain storm or snow fall - but as of the time of writing, there have not been any such storms for many months and the noise is steadily increasing in the absence of a "washing event" to clean dirty hardware.

Regardless of the noise level, we plan to "walk" the power lines near the WebSDR server this coming spring for a visual inspection and using portable radio and ultrasonic receivers to divine possible hardware issues. We last did this in July, 2018 and in the next 9 months, the power company

did

fix the majority of the issues that we'd reported.

It's worth noting that on the lower bands (160, 80, 60 and 40) the normal band noise during the evenings will override local noise source.

Most of the noise source is to the

west

of the WebSDR site, so unless the station of interest is in that direction at the WebSDR site, consider using the beam for 40, 20, 17, 15 and 10 meter reception as front-to-back ratio will likely reject most of the local power line noise.
29 November, 2020: "Notch2" parameters adjusted on all Northern Utah WebSDR servers:
23 November, 2020: Adjustments made to WebSDR #4 and comments about Power Line noise:

WebSDR #4 adjustments:


On this day adjustments were made to the

15 meter

and

10 meter

receiver signal paths on WebSDR #4: It is expected/hoped that this should reduce the possibility that either of these receivers will overload when the bands open.

Additionally, the signal level

into

the AGC loop was reduced so that the "no signal" condition results in less signal to the receivers, overall - but still more than enough to "tickle" at least a few of the A/D bits. It is suspected that at least part of this issue is a result of having adjusted the gain in signal pathseveral months ago without revisiting the settings on these two receivers.

It is suspected that there

may

be the possibility that the main amplifier in the overall signal path is overloading - and if this is the case, it will be removed from the system and the gain redistributed to remedy this, but doing so will have to wait for more instances of "high signal level" conditions for additional analysis and a subsequent opportunity to visit the site and make the needed changes.

Power line noise:

It has been observed that the power line noise has increased on some of the higher bands - namely just below and into the 20 meter band. This increase seems to have been related to an instanced of "mud rain" where wind-born dust was deposted by precipitation onto everything in the area, making leakage paths - and noise - more likely.

This noise is less apparent on the beam antenna as the suspect power line noise source is off the back side of it

In the past, this noise has reduced once we have had some "clean" precipitation

(rain, snow)

to wash things off. If this doesn't occur, we'll "walk the powerline"

(again)

and report our findings to the power company. This was done about 2 years ago and the power company

did

eventually make repairs.

22 November, 2020: Overload conditions on the 15 and 10 meter receivers on WebSDR #4 during band openings.


With the gradual reappearance of activity on the sun, the higher bands - namely those above 20 meters - are starting to wake up, meaning that there are, at times, many strong signals on the band.

Unfortunately - despite having attempted an adjustment using test equipment in the absence of such signals - it would appear that I didn't get the gain/knee adjustments of the AGC circuits on the 15 and 10 meter receivers on WebSDR #4 quite right, meaning that each of these receivers may be prone to overload - and spurious signals - when many strong signals are present. These receivers use RTL-SDR (V3) units - which have only 8 bits of digitization - and these are preceded by an AGC circuit with at least three sets of interacting adjustments, and it would seem that at least one of these need to be

(ahem)

adjusted...


We are looking into several possibilities to remedy this issue, including:

I suspect that we'll do the first in the immediate future and then work on doing the second item.
Left:

The trench being dug. The soil on site is packed hard with roots, but when broken up is very light and dusty so "sanding" the trench wasn't required.


Right:

The trench dug - about 147 feet

(47 meters)

in length.- with the cables in the process of being laid, and the trench filled back in as we proceeded.
Fortunately, even though cold - it was sunny and calm when we did the majority of the outside work. The beam is that just left of center while the omni antenna can be seen in the background, near the left edge. Once the trench was closed we walked along its length, first packing the dirt and pulling more into the slot and then driving over it with a vehicle.


Click on the image for a larger version.




| | |
| --- | --- |
| | |
12 November, 2020: New coaxial cable runs installed and other site work:

Such work at the Northern Utah WebSDR is made possible by the kind donations of its many users - thanks!
28 October, 2020: Internet outages related to upgrades:
4 October, 2020: Keyboard audio muting toggle added:
Two photos of the new guy wire anchors being installed to replace the deteriorating underground anchors.


Left:

Setting up to drive the pipe into the ground.


Right:

One anchor done - one more to go!


Click on either image for a larger version.




| | |
| --- | --- |
| | |
21 September, 2020: Tower deadman anchors replaced.
On this day a work crew arrived to replace the original guy anchors for the 80' tower with the LP-1002 Log Periodic beam antenna. As noted in the

9 September

entry, there was evidence that the guys had slackened somewhat and investigation revealed that the Southeast guy had pulled out of the ground a few inches. Knowing that the "twin" of this same tower had fallen about a dozen years ago - probably due to a failed guy anchor - we were intent on

not

allowing the same fate to befall this tower!

Rather than excavate a huge hole to fill with concrete and steel, this anchor consists of a long, very thick-walled piece of pipe driven deep into the ground at an angle - and this pipe is belayed by another pipe, some distance behind it. To install these, a pile driver is used to pound them into the ground - a process that takes some time.

Both the Southeast and Southwest anchors were replaced in this manner. With this work complete, all three guy anchors have been replaced - the North anchor having been done in June, 2018.

We are looking into applying passive cathodic protection to the new anchors to maximize their lifetime.

As it happened, the RF feed from the beam went dead at about the same time a welder was fired up. The cause was determined to be a loose RF connector that hadn't been properly tightened

(e.g. "finger tight and a bit more")

on a previous visit:

My bad - sorry!

No doubt that it would have "flaked out" on its own, eventually!

Select photos of this work will follow shortly.

It is because of the kind donations by many users of the Northern Utah WebSDR that we are able to do critical maintenance projects like this!
19 September, 2020: Site visit
17 September, 2020: "Disturbances in the force"

At around 0830 UTC, WebSDR #2 went offline for reasons not entirely clear. At a bit after 1400 UTC - morning - its WebSDR service was restarted and everything looked normal.

At around 1030 MDT several of the WebSDR servers unexpectedly went offline. A quick check of the network indicated that the inbound pipe to the WebSDR receive site was saturated by the WebSDR servers downloading updates. Apparently a number of "extremely critical" updates have been pushed out to fix one or more "Zero Day" exploits across a variety of operating systems: We aren't sure of the details at the moment, but it appears to be affecting all types of services and platforms so one can expect it to make the news.

After the updates completed, the WebSDR servers came back online without intervention having apparently needed to disable their Ethernet connections for a while in order to complete the updates. Unlike some other operating systems, they did not need to reboot to do critical updates.

16 September, 2020: Regional power outage

At about 0018 MDT, the power went off at the WebSDR receive site - and in many of the surrounding northern Utah communities. The UPS battery bank lasted about 2.5 hours under the 450VA load, finally going offline at about 0238 MDT.

At around 0610 MDT, the power returned. For reasons to be determined, none of the automatic start-up scripts on the WebSDRs did their job, requiring remote access to kick-start the WebSDR services themselves. None of the KiwiSDRs on site started up on their own so a trip to the site will be required to "kick" them manually.

During this power outage, there was also a network outage which limited Internet connectivity in the area for a time.

An interesting side effect was that the labels on the WebSDRs were "wrong": The labels are changed at 5 AM and 5 PM MT, but since the power was off at 5 AM the script that runs precisely at that time did not run when the power was restored. The scripts were manually run on the four servers to "fix" things. Of course, they would have

eventually

fixed themselves!

One of the deadman anchors on the tower with the beam having pulled out of the ground a few inches as evidenced by the appearance of metal that had - until recently - been underground.


Click on the image for a larger version.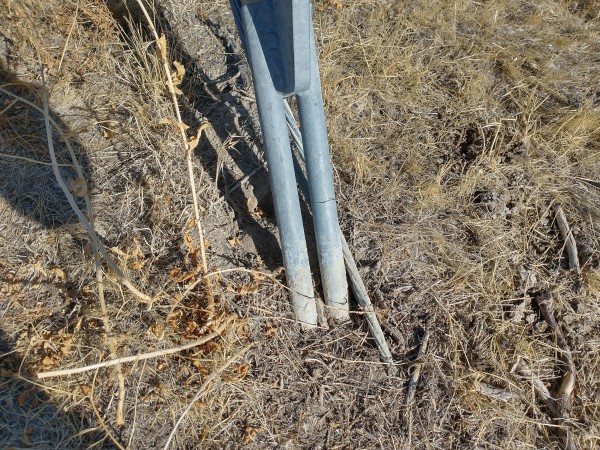 9 September, 2020 - Wind storm effects

Very high winds:

During the 8th of September a severe "wind event" occurred in Northern Utah with certain areas recording gusts exceeding 110 MPH

(175kph)

. As you can imagine, this felled trees, removed roofs, and caused significant power disruptions.

(Addendum: Some areas were without electricity for more than three days following the event.)

During this event, connectivity to the Northern Utah WebSDR was impacted when critical infrastructure on the Internet Backhaul

(which feeds our ISP)

went offline, reducing available bandwidth. A repair/work-around was implemented within hours.

Failure of tower guy anchor:

At the Northern Utah WebSDR site an inspection has revealed that one of the guy anchors on the 80 foot tower holding the LP-1002 beam - the "South-East" anchor - has failed as evidenced of it pulling out of the ground a few inches. In referring to the 20 June, 2018 entry of this "Latest News" page you will see that a similar thing happened with the north anchor, which has since been replaced. We have contacted the same person who did the previous replacement and we will have him replace the two original anchors - including the not-yet-failed "South-West" anchor - as soon as possible.
30 August, 2020 - Internet outages, but not at the WebSDR:
5 August, 2020 - Issues with WebSDR #2:

There were issues with WebSDR #2

(Green)

where users were getting incomplete/intermittent audio and waterfalls.
We

think

that the issue was an errant software package, known to occasionally cause issues, that was disabled: We are hoping that the problem is resolved - but one never knows!

The problem

appears

to have been the Linux "SnappyD" service - which is apparently known to occasionally go rogue, causing excess usage of resources. Since this is not really needed for the rather stripped-down systems used for WebSDR service, this was removed.

1 August, 2020 - Site work:

Building painted:

The building containing the WebSDR receive hardware was repainted using a white, IR-reflective "RV" paint to reduce the thermal load - particularly during these days of high

(>100F, >38C)

temperatures. The

(mostly)

bare metal of the exterior of the building went from being too hot to touch to being about the same temperature as ambient.

As the building is normally

not

air conditioned - except when someone is there working on something. Until the recent addition of a thermostatically-controlled vent fan, the interior of the building would often exceed 125F

(52C)

- and with the fan this was reduced to about 10-12F

(about 6C)

above the outside temperature.

The repainting of the building should reduce the heat even more and minimize the during of the vent fan's operation. In case you are wondering why we don't run an A/C unit all of the time, just consider what the power bill might be! Computers are are usually just fine at "reasonably hot" (100F/38C) temperatures, anyway.

Comment on 8/4:

After several days of monitoring since painting, the interior temperature is now typically 4-5 degrees F

(roughly 3C)

above the outside temperature.

Power transfer relay replaced:

The WebSDR's equipment has been powered via a simple transfer relay that, when the UPS power is present, will supply power via that route - but if the UPS power disappears, it will switch to another power source. This box has allowed us to work on the UPS without interrupting the power to the equipment, simply by powering down the UPS and the relay transferring the load to a non-UPS source - or, if we so choose - another UPS.

The new relay is more rugged, and it includes voltage sensing and a delay on the "main" power input so that the UPS has time to come up to full voltage and power before the relay switches.

Brief system outage:

Because all gear is powered via this box,

everything

at the WebSDR site had to be powered down when it was changed, resulting in an outage of 5-10 minutes.
Information about this transfer relay is documented on the 7 July, 2020 entry of the KA7OEI blog page.




AM broadcast band notch filtering added on RF feed from the beam:

Despite the LP-1002 beam being designed for 6-40 MHz, it does a very good job of intercepting signals well outside this range - including the AM and FM broadcast bands. In fact, it does a decent job of being a (more or less) omnidirectional antenna down through the AM broadcast band.

While some "strong" filtering was in place to remove the AM/FM band energy, a few of the stronger AM broadcast band signals were still still able to get through the filter with a significant amount of energy, so four notch filters were added, tuned to the four strongest signals to further reduce the possibility of signal overload.

Known issue:

As mentioned in an earlier entry, some of the receivers

(notably the 40 meter receivers on WebSDR #1 and the 20 meter receivers on WebSDR #4)

are prone to drift a few 10s of Hz with temperature. This is a known issue and we are working - as time permits - on a means of compensating for this.
30 July, 2020 - Brief outage:
25 June, 2020 - Comments:

WebSDR Telemetry transmitter: A CW telemetry transmitter has been added on site and you may hear this at 28.569 (USB). This beacon includes indoor temperature, humidity - and their minimum and maximum voltages. Also conveyed is the power line voltage (min and max) and it records low

(<100 volts)

and high

(>135 volts)

excursions - and it counts power outages and measures their durations.

Possible interruption in Internet connectivity:

Earlier this week

(6/22-6/23)

the Internet backhaul provider

(not our ISP)

had routing issues.
17 June, 2020 - Comments:

Weather Underground widget removed:

It would seem that Weather Underground has finally discontinued support for their older widgets, meaning that the small display of current conditions that had appeared in the upper left corner of the WebSDR pages quit working. We have replaced the widget with a link to a page that will display weather at the Northern Utah WebSDR receive site.

It is unclear whether owners of personal weather stations - one of the largest contributors of raw data to the Weather Underground monitoring network - are currently entitled to free "widget" service.

We are looking for alternative widgets that can interface with the Ambient Weather network - preferably for free.

Slight frequency drift with temperature: Users of some bands

(40 meters on WebSDR #1, 20 meters on WebSDR #4 - and a few other bands)

may be noticing a drift of a few 10s of Hertz at times.
5 June, 2020: Brief outages - WebSDR #4 code modified.

Brief outages:

There| were (probably) several brief outages today as our ISP upgraded some of its equipment.
Changed mode switching on WebSDR #4.

If, when on a band where USB is normal, one is on LSB, the mode is "swapped" when switching to a band where LSB is normal.

For some reason the LSB mode was often being selected when users connected to WebSDR #4. Code was changed so that the default is now to

always

select LSB for 40 meters and USB for the other bands... I hope...
31 May, 2020: Power outage at WebSDR receive site.

It would appear that the AC power (from the utility) went off at approximately 0843 MT, the on-site UPS taking over at that time.

At about 1230 one of the locals brought over a generator to keep the site online. The generator remained online until the early evening.

Both the UPS and generator are RF-noisy, causing a bit of QRN on most bands.

We later learned that the cause of the outage was vehicle versus power pole: Apparently, a rather large truck was able to take out two or three power poles - and then another vehicle, swerving to avoid the accident, took out another pole on the other side of the road. Needless to say, it took hours for the utility to repair the damage.

There was a brief interruption when power was transferred back to utility power: Apparently our automatic transfer relay - a device we installed to allow us to switch power sources without interruption - didn't work properly, so all servers were dumped, but brought back online immediately. We'll look at this issue during the next "major" site visit.

25 May, 2020: Slight receiver frequency adjustments.

While most of the receiver local oscillators at the Northern Utah WebSDR use TCXOs

(Temperature-Controlled Crystal Oscillators)

the FifiSDR and SoftRock Ensemble receivers do not: These receivers use the Si570 synthesizer, instead. Because of this, they drift slightly with temperature - roughly on par with that of a typical, modern HF transceiver with a factory reference.
The bands that

may

drift slightly with temperature are:

160M

,

40CW

and

40PH

on WebSDR #1 which use FifiSDRs.

17M

and

12M

on WebSDR #2 which use the Softrock Ensemble II receivers.

20CW

and

20PH

on WebSDR #4 which use FifiSDRs.

30M

and

17M

on WebSDR #4 which use Softrock Ensemble III receivers.

Today I was able to get a utility working that allows "live" tuning of the FiFiSDRs and wrote some simple scripts that allow "on the fly" adjustment of the local oscillator frequencies and several of the receivers

(40PH on WebSDR #1 and 20PH on WebSDR #4)

were slightly adjusted to bring them closer to being "dead on". Eventually, a script will be implemented that will allow better frequency-versus-temperature compensation to minimize the amount of apparent drift.
Because of the nature of the local oscillators used in the aforementioned receivers

(e.g. the use of the Si570)

they do not readily lend themselves to being externally referenced

(e.g. OCXO or GPS.)

The only practical way to do this would be to introduce a known-accurate and stable frequency into the RF chain and make occasional measurements of the resulting audio frequency.
22 May, 2020: WebSDR receive site offline due to lightning

At around 1800 MT the connectivity to the Northern Utah WebSDR's receive site was lost when a lightning strike took down one of the wireless hops of our Internet Service provider.

Service was restored a few hours later. It was mostly a matter of power-cycling everything and doing a minor reconfigure to work around damage to one of the backhaul radios: Equipment will be replaced later as necessary.
15 May, 2020: WebSDR receive site offline due to rodentia.

At approximately 1830 MT the Northern Utah WebSDR's receive site went offline: Service was restored about 6 hours later, a bit after local midnight.
The outage was caused by rodents

(rats?)

chewing through an Ethernet cable at a linking site. The cable was replaced and measures were taken to help prevent this from happening again.
1 May, 2020: Site visit.

A site visit was made on this day to address several issues:

40 meter band-pass filter added to 40 Meter receivers on WebSDR #4.

As noted in the 25 April, 2020 entry, the 40 meter receivers on WebSDR #4 ("

40CW-E

" and "

40PH-E

") were being overloaded by

extremely

strong signals in the adjacent 41 meter shortwave broadcast band, causing spurious signals to appear at time due to generated intermodulation distortion. A major challenge is that the top of the 40 meter amateur band

(7.3 MHz)

is the bottom of the 41 meter shortwave broadcast band meaning that some of the strong signals were

very

close to the top of the band, making filtering difficult.
A somewhat complex band-pass filter was constructed in an attempt to reduce the likelihood of intermodulation distortion by strongly limiting signals outside the 40 meter band. This filter provides offering more than 20dB of attenuation below 6.9 and above 7.4 MHz.

Another KiwiSDR added on the beam's RF signal path.

A second KiwiSDR was added to the signal path from the LP-1002 beam that feeds WebSDR #4 to allow expanded WSPRNet monitoring and to free up more channels for general listening. At the moment, these KiwiSDRs are

not

publicly available, but we are considering doing so.
A revised "limited attenuation" high-pass filter was installed in the KiwiSDR signal path - this filter offering more attenuation at lower frequencies than the previous version.

It was observed that even though this filter has more low frequency attenuation than the previous, it is not enough to handle both the extremely strong signals from the 49 and 31 meter shortwave broadcast bands

and

to have enough gain to hear the noise floor at 10 meters. It would seem that a bit more revision of this filter will be necessary!

New high/low pass filter module added to WebSDR #4 signal path.
Low-pass filter network added to main WebSDR feed:

Even though it had not been observed to be an issue, a 40 MHz low-pass filter was added to the main RF feed from the TCI-530 omnidirectional antenna that feeds WebSDRs 1-3.

Installation of 160 meter band-pass filter "permanentized":

The 16 February, 2020 entry described how a very "sharp" 160 meter band-pass filter was added to the 160 meter signal path. This filter's

offers just 4 dB of attenuation in the 160 meter band, but 20dB at 1700 kHz and in excess of 40 dB below about 1600 kHz.

The filter - which is built on a small circuit board - had been temporarily wired in, hanging in space but it was relocated/placed inside the "low split" filter module.
25 April, 2020: Overload issues on 40 meter receivers on WebSDR #4:

Users of the 40 meter receivers on WebSDR #4 have likely noticed that during local evenings

(in Utah)

- particularly during the hours near sunset - that the performance of these receivers is degraded. This is due to the

extremely

strong signals found just

above

the 40 meter band in the 7.3-7.8 MHz range, the so-called 41 meter band. The total RF power of these signals has been observed to approach 0 dBm - which is a signal level exceeding

70 over S-9

which is enough to cause issues with practically any receiver.
While these receivers are already preceded with "strong" band-pass filters, these were mostly intended to remove the also-strong signals from the 49 meter shortwave broadcast band - and they do that nicely - but they do little for the powerhouse in the signals in the 41 meter band. Under construction are some

extremely

sharp band-pass filters that should offer significant attenuation to signals starting just above 7.3 MHz.
Compounding this issue is the persistent

lightning static

that emanates from strong spring thunderstorms across the central United States - the same direction in which the beam antenna is pointed. These strong static crashes - combined with the already overloading receiver - further cause degradation.
As noted, the gear needed to make these modifications is currently under construction, but construction and testing - not to mention arranging a trip to the WebSDR receive site - will take a bit of time.

Thank you for your understanding.
23 April, 2020: Noise issues on WebSDR #4 and LF.

Yesterday

(22 April)

significant degradation was noted on the 17, 15, 12 and 10 meter noise floors on WebSDR #4 along with a severe degradation in performance on the LF receive system

(<=400 kHz)

as received on 2200 meters and KiwiSDRs 1-3.

The issue was tracked down to an intermittent shield connection on a coaxial cable that was common to both of these signal paths. It was initially presumed that the cable on the end of the jumper had failed where it connected to a grounding block/lightning arrestor, but subsequent disconnection/testing did not reveal any problem - and when this cable was reconnected to the same place, the issue could not be replicated.

This diagnosis required the complete interruption of the signal path on WebSDR #4.
14 April, 2020: Power bump - and attenuation added to the 40M RXs on WebSDR #4:

Power bump caused by UPS self test:
13 April, 2020: 40 meter RX overload on WebSDR #4
11 April, 2020: Site visit.

WebSDR #4

(Magenta)

brought online.

A new WebSDR server, #4, was brought online: This server is connected to a Hy-Gain LP-1002 Log Period antenna that is at 80 feet above ground

(25 meters)

that is

fixed, non-rotatable

on a heading of 87°

(true north reference)

. This antenna has never had a rotator - and it

NEVER WILL

.
This system covers the

40, 30, 20, 17, 15

and

10

meter amateur bands: 12 meter is currently not covered because of software limitations - but we are considering means of providing such coverage.

The orientation of this antenna is such that it covers the Eastern United States in its main lobe, with the far DX coverage putting the center of the beam coverage on South Africa with the Middle East and the Mediterranean at the extreme north edge, near the "unity gain" points. Australia and New Zealand are within the main lobe for "Long Path" coverage.

During this visit, it was discovered that a portion of the feedline had

(literally)

disintegrated: A bit of a "kludge" was required to make a connection to the feedline. We are looking into obtaining replacement hardware to effect a "permanent and proper" fix.


Please note that this system is still undergoing commissioning and it may go offline or be restarted at times.

If you are using this WebSDR in conjunction with your home station, please remember that you may not be able to hear stations to the

west

of the heading of this beam - but those other stations might be able to

you

unless the antenna at your QTH is similarly directional.

Overload was being caused to an RF amplifier module at the tower by the presence of strong signals from both FM and AM broadcast signals, resulting in extreme overload and intermodulation distortion. A makeshift filter was constructed on site using cardboard from a pizza box, some self-adhesive copper foil, inductors wound using wire found in the tool box and capacitors from an assortment kit - the operation and performance verified with a NanoVNA. The filter, while very ugly, did the job.

A single KiwiSDR, dedicated to monitoring signals from the beam antenna, was added. This KiwiSDR is not

(yet)

available to the public.

If you have any comments about this antenna and its receiver please send them to

sdrinfo@sdrutah.org
4 April, 2020: Site visit.

Reduction of power line and computer noise.

Some common-mode filtering was strategically added to reduce common-mode noise from power lines and computer power supplies caused by circulating currents on some of the internal coaxial connections.

Reduction of common-mode noise on "LF" signal path - namely the frequencies below about 350 kHz covered by the 2200/1750 Meter receiver and the KiwiSDR. Noise issues below about 30 kHz still need to be addressed.

Antenna work.
30 March, 2020: Backhaul issues - extreme slowdown of WebSDR traffic.:

It would appear that one of the main backbone Internet connections for much of Utah and according to the provider, Utopia Networks, they lost some key hardware in their network core. The effect may have been worst in Northern Utah.

As a result the ISP providing the service for WebSDR - which uses Utopia as one of its main Internet providers - switched to a much lower-speed backup to maintain

some

connectivity for their customers - but this also caused extremely slow connections to the WebSDR making it impossible to maintain an audio connection at times with packet transit times often exceeding 3 seconds.
The degradation of service lasted from around 1900 to a bit before 2300 MDT. At about 0130 local time on 31 March the faulty hardware - which had been reset

(with much crossing of fingers, no doubt)

was replaced.

25 March, 2020: "High Boost" added to the Northern Utah WebSDR servers:

A button marked "

High Boost

" is now present on the Northern Utah WebSDR servers. When activated, this provides a 6 dB boost to

audio

with the curve of the response "knee" centered at 1500 Hz.

This button may be useful for high levels of DSP noise reduction which can have the effect of suppress higher audio frequencies.

The high frequency boost may also be beneficial for those with high-frequency hearing loss, to improve intelligibility overall.
19 March, 2020: Internet restrictions relaxed - for now.

Our Internet Service Provider has notified us that bandwidth restrictions imposed by

their Internet

backhaul providers have been lifted and with their knowledge, we are rolling the configurations of the WebSDR servers back to their original configuration in terms of audio compression, waterfall speed, number of users and time-out limits. These changes require the servers to be reset so we are waiting for the number of users to drop before doing so.

PLEASE REMEMBER

that Internet usage has increased dramatically in many areas owing to the increased need by industry and education for remote access.

Because of this

you should expect heavy Internet usage that will likely affect connectivity to

all

web sites at times.
The WebSDRs, being nearly real-time, can have only minimal buffering - unlike many streaming services - which means that they are

more affected

by slow-downs in Internet traffic as they cannot simply "pre-fetch"

(buffer)

seconds/minutes of content to accommodate.
18 March, 2020: Utah earthquake

At 0709 MDT there was an earthquake

(5.7 reported as of writing)

that was centered just north of Magna, Utah - approximately 11 miles

(17 km)

west of downtown Salt Lake City - just a "little one" for many California transplants.
Reports indicate that the most severe shaking was very localized with power outages and damage to unreinforced masonry structures in the immediate area and several trailer homes having fallen off their piers. Elsewhere in the Salt Lake valley the reports vary from

"A loud truck going by"

to

"Holy $#!+"

. Businesses and warehouses have reported loss of inventory due to items having fallen off shelves and tipping/collapse of shelves.
As of this writing, there are no reports of serious injuries. Dozens of aftershocks have been felt all across the Salt Lake area - some of them quite strong, but so far non have been greater than 4.7 - a magnitude

less

than the main 0709 MDT shock.
For the most part, services

(power, water, Internet)

have been minimally affected overall with the mobile phone service possibly having been impacted by the expectedly-high call/text volume. Initial reports are that outages are restricted to very local cases where specific sites may have had equipment disruption

(e.g. loss of power/connectivity).

As far as can be determined, the Northern Utah WebSDR - which is about 70 miles

(110 km)

north of Salt Lake City - saw no interruptions in power or service. If there had been interruptions in service it would most likely have been due to follow-on effects from widespread power failure and loss of Internet connectivity in the nearby metro areas.
WebSDR Issues:

Wiring damage: It was observed that some of the receivers' signal levels were low, so a site visit was made where it was discovered that some of the wiring on the 12 volt bus that powers the RF infrastructure

(preamps, converters, etc.)

had been pulled apart - probably because of shaking of the equipment and rack. There were a few brief outages as the DC cabling was re-dressed and repaired.

USB port issues:

While on site it was observed that the system was throwing errors related to the 40CW USB receiver, occasionally causing the WebSDR service to restart which would kick everyone off. After a bit of reconfiguring - which required some changes to the computer, WebSDR reconfiguration, several reboots and 15-20 minutes of being offline - that device was moved to a different USB port where it seems to be behaving itself.

Dirty power on site:

A few days ago a "new" UPS was put on site after the previous UPS had been damaged by voltage extremes - and based on the complaints, the new one was not happy at all with what it was seeing - with the AC mains voltage varying from 90 to 142 volts - the UPS going on battery when it was below about 105 volts or above 135 volts. In speaking with the power company, we should not expect the situation to improve in the short term which means that we will have to deal with it ourselves

(power in rural areas is often like this)

and we are considering more robust means of providing back-up power, including:

An AC mains voltage regulator

An "online" UPS that can take a wide voltage input and output a consistent 125 volts. Essentially, this is would be just a wide voltage-range 24 volt DC power supply connected to a battery and that same battery connected to a 120 volt inverter.

If you have any suggestions - or equipment you might be willing to donate - please contact us as "sdrinfo@sdrutah.org".

KiwiSDR #2 intermittent:

KiwiSDR #2 has been having problems, occasionally rebooting. We

think

that this is a result of problem with the power lead feeding it and have effected repairs, but we are continuing to monitor.

For "less-recent" (earlier) events, go to the "Latest News Archive" page -

link

.


---
Issues currently being investigated:
Power Line noise:

There is an intermittent power line related noise that occasionally shows up - and we are working to resolve this issue - but the system's noise blanker seems to be able to remove most of it. This noise is typically the worst on 80/75 meters, but it seems to disappear at night as the band opens up and the ionospheric noise submerges it. Several poles have been identified
A "pop" in the audio and an accompanying change in signal level:

There appears to be an intermittent cross-connection on the antenna between a feed and guy wire that can cause noise in the received signals and levels to fluctuate during very windy periods on site - particularly on the lower

(160, 80/75 and the 630M-AM-160M)

bands. A similar-sounding - but unrelated - issue

(described below)

exists with the AM demodulator. Occasionally, this seems to be accompanied by an increase in intermodulation distortion from AM broadcast band signals - a problem that can affect the 75 Meter and lower-frequency bands.
Occasional outages:

We are working to "neaten up" the installation so we occasionally have to take something off line to dress a cable, replace a connector, "permanentize" an installation. Tasks like this will cause outages of several minutes duration. Some work is also being done at one or more of the interim sites that provide the Internet connection that occasionally result in outages.
---
Miscellaneous quirks
(e.g. "It's supposed to be that way!")
:
If the WebSDR is not on an active window on YOUR computer:

If the WebSDR is not the

currently active

window on your desktop, the computer will give it lower priority and this will make audio drop-outs/waterfall freezes more common. The same thing can happen if your computer is "busy" doing something else, such as other programs, updates, incoming emails, etc. The same is likely true with other platforms

(phone, Mac, etc.)

The first thing that you should do if you experience drop-outs is to switch to the window running the WebSDR.

Don't forget that your

own

Internet connection/ISP can result in drop-out issues as well. It has been observed that on a typical Windows machine, if the processor utilization is over 65-70%, you may experience occasional drop-outs due to delays in the operating system providing processor time to the code that produces the audio and draws the waterfall.
Waterfall not updating when you switch to another window:

When the waterfall is not visible

(that is, you have switched to a window and moved the one with the WebSDR in the background)

it will stop - which makes sense if you can't see it. What this means is that when you switch back to where the waterfall is again visible there will often be a clear line of demarcation between what the signals were when you switched away and when you switched back.
---

If you notice some issues

that are unrelated to those listed above

feel free to use the contact info on the

About page to let us know about it.

Additional information:

For more information about the WebSDR project in general - including information about other WebSDR servers worldwide and additional technical information - go to http://www.websdr.org
Back to the Northern Utah WebSDR