The Northern Utah WebSDR

Less recent news and current issues
Less-recent events and resolved issues:
18 December, 2019:

Utility work continues:

The electrical utility cut power again around 0900 (MT) to continue the upgrade and as before, we could not be on-site nor provide UPS or generator power during this work.

WebSDR #1 temporarily offline:

As before, WebSDR #1

(yellow)

did not come back online. The suspected problem is a failing USB sound card that is causing the computer to "hang" during boot-up, but we'll have to get eyes on it to be sure. We have extra hardware to fix whatever is wrong, but between the utility work

(during which we cannot visit the site)

, weather, time and the remoteness of the site, it will likely take a few days before it can be completely restored.

80 and 40 meter back-up receivers:

WebSDR #3

(blue)

has back-up receivers For 80/75 and 40 meter reception - please use these for those bands in the meantime.

Intermittent connectivity issues:

As noted in the 14 December news, below, we have been experiencing occasional slow-downs and drop-outs on the 3rd and final wireless hop to the WebSDR receiver site:

Please read that entry for more details.



14 December, 2019:

Utility work still pending:

Between weather, holidays and other scheduling issues, the work on the upgrade by the electric power utility still remains to be done: When we know something, we'll post it here!

Internet connectivity issues - slow-downs and drop-outs:

If you are an avid reader of this page you may already know that it takes

three

wireless hops to connect the remote location of the Northern Utah WebSDR's receiver site to the Internet - and it's the last and shortest hop

(approx 12 miles/19km)

that connects directly to the remote site that has been having issues that cause the audio to drop out and, occasionally, causing the Northern Utah WebSDR's Internet connectivity to become unusable for several minutes.

The issue appears to be related to Fresnel effects - which normally cause slight degradation of this last hop - getting briefly worse when the weather rapidly

changes

or is very bad - and severe weather has been happening a lot in the past couple weeks in that part of the state. We are trying to implement some changes to minimize this issue, but it will likely take a major change to the topology of the network connectivity to the WebSDR to eliminate this particular issue.

These changes are in the planning stages, but it is not yet known when this might be done due to equipment availability, scheduling of those who may do this work and the kindness of Mother nature. Unfortunately, we are just entering the time of year where the weather can be the most fierce - particularly in that part of the state.
10 December, 2019: Updates.

KiwiSDR receivers back online: It appears that all three KiwiSDRs, which run Linux, got into a state where they were expecting manual intervention by a person before booting up. We are investigating why this happened so that it will

(hopefully)

not happen again in the future.

Awaiting completion of electrical utility upgrade:

Because of the weather, slipping of schedules due to other tasks, equipment problems the upgrade-in-progress to the electrical feed is still on hold. When we know more, it will be posted here.
30 November, 2019: More updates.
28 November, 2019 update: More severe weather - just in time for Turkey day!

Heavy weather:

A lot of snow has fallen in the general area of the WebSDR's receiver site and many roads are awaiting snow plows and there are several scattered power outages in the area: It has been reported that thousands customers

(which is a sizable percentage of people in the country)

have experienced a power failure this morning.

WebSDR #1

(Yellow)

back online: There appears to have been a power bump at the WebSDR site that lasted long enough to take everything down - but when power returned, WebSDR1, the power supply of which had been repaired but the computer didn't boot properly when initially tried - seems to have recovered itself.

KiwiSDRs offline:

Unfortunately, the power supply running the KiwiSDRs appears to have crowbarred, possibly because the power did not come back up "cleanly". Until the supply can be reset

(possibly another power bump!)

the KiwiSDRs - and the "KA7OEI-1" WSPRNET reporting - will be offline.
27 November, 2019 update: Severe weather in northwestern Utah delays utility work, WebSDR1

(Yellow)

still offline.

Utility work postponed:

Because of severe weather in northwestern Utah, the utility work scheduled for 27 November has been postponed. As soon as we know when this work will occur, we'll post it here.

WebSDR1 repair delayed:

The same weather that delayed the utility work dumped a bunch of snow on and around the Northern Utah WebSDR's radio site and surroundings, making it quite hazardous to travel - particularly for those people who do not have chains and/or 4WD vehicles.

What this means is that the primary receivers for 80/75 and 40 meters are down, but there

are

back-up receivers on

WebSDR3

(the Blue one)

that are available for those bands. There are currently no back-up receivers for 160M, 60M, or the AM broadcast band.
26 November, 2019. Comments:

Power outage due to utility work:

Because we didn't see another power outage after last Monday, 18 November, we weren't surprised to see it go off today for a while

(approx. 1337-1449)

while the power utility did more work.

The utility had to abandon work on this day because of the failure of a bucket truck

(a line/seal ruptured causing loss of hydraulic oil)

.


We have been told that the power will

likely

be off again on Wednesday, 27, 2019 while the utility continues work.

WebSDR1 temporarily down:

Unfortunately

, WebSDR #1

(Yellow)

did not recover on its own: Its power supply was damaged - possibly by a glitch when the power went up/down and will have to be repaired/replaced.

Backup receivers 80 and 40 meters on WebSDR3

(blue)

: In the meantime - at least while we are working on WebSDR1 and the power is on - use the back-up 80/75 and 40 meter receivers on WebSDR3.


Coverage expanded on WebSDR #3

(Blue)

:

90/80M:

The bandwidth of this receiver has been increased from 1024 kHz to 1536 kHz and the center frequency shifted upward to 4000 kHz. The coverage of this band is now 3712 kHz through 4718 kHz meaning that it now overlaps with the low end of the 60M receiver on WebSDR #1.

41/40M:

The bandwidth of this receiver has been increased from 1024 kHz to 1536 kHz and the center frequency shifted upward to 7500 kHz. The coverage of this band is now 6732 kHz through 8268 kHz meaning that it now overlaps with the top end of the 60M receiver on WebSDR #1.
These changes were made as a result of suggestions made by some participants on the 2019 Survey to provide additional coverage of commercial, military, utility, broadcast and "mystery" users in these frequency ranges: You may read the results of this survey HERE.

Please note

that the performance/sensitivity of these receivers is optimized for the 80 meter

(3500-4000 kHz)

and 40 meter

(7000-7300 kHz)

amateur bands:

The sensitivity will degrade outside these bands.

First two "bands" swapped on WebSDR #1

(Yellow)

:

The positions of the "AM-160M-120M" and "160M" bands on WebSDR #1 were swapped. This was done so that if one manually entered a 160 meter frequency it would more likely jump to the "160M" receiver, rather than the "AM-160M-120M" receiver as had happened before.

Network outage:

The Internet connectivity - but not power - to the WebSDR's remote site was lost for just short an hour in the morning, not related to the power issues - a likely consequence of weather plus the "remote-ness" of the site itself.
24 November, 2019: Typos fixed in web page scripts - Waterfall issues on WebSDR1 resolved.
23 November, 2019 - Web server issues - Blank screen and/or "This Page not secure" warnings:

Some updates were made on the main web server

(not the WebSDRs themselves)

and some there were some unexpected results - namely the web server automatically reverted to "Make

everything

use 'https'

(secure)

web connections". This "broke" the links to the WebSDR servers themselves as they

cannot

use "http" - the "insecure" connection mode. It took a little while to figure out what had changed and fix it.

A "blank" page:

Unfortunately

, if you had tried to connect to the WebSDR via the landing page during this time your browser's cache would have included the instructions to use "https" - and this is not easily purged by simply refreshing the web page. In some cases, simply closing the browser and restarting it will "fix" it, but in most cases it is required that one purge the browser's cache by doing into the browsers "options" menu.
It should be noted that this problem did not/has not affected

only

the Northern Utah WebSDR, but many other WebSDRs have been "victims" of this browser behavior where attempting to go to the WebSDR will result in nothing happening - but this is also fixed by clearing the browser cache.

"This Web Page is not secure" warning:

In some cases, you may have gotten this type of warning where you could allow an exception to this rule. If you keep getting this, try closing/restarting the browser - but if this doesn't work, clear the browser's cache.

It's unclear whether or not the power utility has finished the work - but we are suspecting that they

probably

have not. When one of our correspondents spoke with the line crew, it was indicated that they would

try

be done by Friday, 22 November, but there was some question as to whether all of the materiel required to complete the job would be available to fit this schedule. Because the "final" work was expected to cause an extended outage - and we didn't see one - we are presuming, pending official word, that the final work remains to be done and that we can still expect one or more extended outages.
Because of the upcoming Thanksgiving Holiday week in the U.S

.,

it is possible that the completion may be further-delayed - but this is conjecture since we have no easy means of checking with the crew.
18 November, 2019. Utility Power Interruption:

What happened today:

Work began on the power feed to the Northern Utah WebSDR site and power was cut for a while to facilitate that work. For various reasons, we didn't get prior notice of this work or else we'd at least have posted a notice.

To make sure things would recover correctly

(they didn't!)

one of the local hams visited the site and found three problems:

What is happening:

The local power utility has begun a replacement/upgrade of the spur power line feeding the Northern Utah WebSDR site. This power feed is very old and obsolete, providing the site with "unregulated" power between about 90 and 140 volts: The power has been fed via two legs of a 4160 volt open-delta feed - and if you know about these things, you'll begin to understand why this upgrade is being done. Due to future needs in the vicinity, the line is being upgraded to a modern 12kV circuit.

What is being done:

Because

everything

is being replaced - with the possible exception of some of the poles - power may be on/off for several days, and since there are no residentical customers on this circuit, the power company may simply de-energize the circuit until the work is complete.

Will the WebSDR be up?

Because of the duration, the use of a UPS is not really practical, but we

may

try to apply generator power. Because this site is quite remote, frequent tending of a generator to feed it gas is a bit onerous and even if we are able to do this, there may still be interruptions. Please expect

lengthy

interruptions!

Computers are computers:

Whenever computers or networking gear are power-interrupted, there is

some

chance that something may not recover due to "improper shutdown", voltage transients, or possible stressing of a piece of hardware. We will deal with that as we are able, but recovery from such events may take a while.

When will this be complete?

We have been told by the utility that the work is expected to be completed by Friday, 22 November, 2019 - but due to equipment availablility

(such as new transformers)

work may take longer than this.

Remember:

This circuit has

no

residential or commercial customers per-se, so it is likely that the utility power will be offline for days at a time during the transition as the old, obsolete gear is removed and more modern gear is installed.
9 November, 2019. Maintenance items:
With the recent release of Apple iOS 13 there have been many complaints by users about the lack of audio, particularly via web sites that stream audio - and it would appear that users of WebSDRs and KiwiSDRs are similarly affected. This is

not

a problem with the WebSDR/KiwiSDR but an artifact of a change in iOS 13. A quick look via a search engine will reveal many steps that others claim to work - but, at the time of this writing, there is no obvious single "fix". One such page detailing possible steps to take is

HERE

.

If you are able to solve this problem on your device, please let us know via the email address on the

ABOUT

page.

Try a different browser:

In at least one case, the "Start Audio" button was present on the Chrome browser, but

not

the Safari browser, so it is recommended that you try

more than one browser

.

Try changing audio settings in Safari:

Go into "Preferences" and changed the setting for "When visiting other websites" from "Stop Media with Sound" to "Allow All Auto-Play" and reload the page.

Remember:

If you are using Chrome or Safari, you may have to click the "Audio Start" button just above the upper-right corner of the waterfall display - and you can read more about that

here

.

UPDATE - 11 November, 2019:

Via a bit of sleuthing and with help from Gary C., we have determined one possible cause of audio issues with Apple products. It would seem that Apple may have made some changes in the way their browsers indicate their version to the WebSDR. What was happening was that the WebSDR was not recognizing those "new" designations and not presenting the user with special code to make Apple products work. It was also observed that the "iOS Audio Start" button was no longer appearing on some Apple devices and browsers, but this change

(hopefully)

has fixed that. If you are using an Apple product and still having issues with the WebSDR, please email us using the link on the "

About

" page.
30 October, 2019. "White screen" when trying to go the WebSDR if their browser was already in HTTPs mode:

We have been getting occasional reports of users getting just a white screen when clicking on the links to the Northern Utah WebSDR servers themselves - in other words, the main page would load, but nothing happened when one tried to listen. Because we hadn't seen this issue and could not replicate it, we didn't know what was happening until "Tom" figured it out and passed along the information. Here's what was happening:

The Northern Utah WebSDR's "landing page"

(sdrutah.org)

can

, but does not require, the use of "secure HTTP"

(e.g. "https")

.
If a user arrived at the landing page with their browser in "https"

(secure)

mode and tried to go to a WebSDR server to listen, there was a problem: The WebSDR servers themselves currently

cannot

use https - and directing from a secure page

(https)

to an the WebSDR servers themselves

(not "secure" - running only http)

would cause the browser to see this as a potential security issue and prevent the page from loading - often with no obvious error unless one dug around inside the browser's debugger.
To be clear: If the user had already arrived at the site in normal "http" mode

(e.g. "http://sdrutah.org")

, there would

not

have been an issue in the first place. Pretty much

all other

WebSDR sites use

only

"http" mode. When we talk about "http" being "not secure" this simply means that you would

not

want to use this mode to conduct transactions that require encrypting - like passwords, banking, personal info: The WebSDRs are, by their very definition, "public" and no credentials are required, so this is not an issue.
In other words, if you had gone to "http://sdrutah.org"

(rather than "https://sdrutah.org" - which may be the default of some browsers)

it is likely that you - like most users - would not have

ever

seen a problem.

Work-around:

The links on the main "sdrutah.org" page now explicitly use "http" to direct users to the WebSDR pages. This change should be transparent to most users - although it is possible that some browsers/firewalls may flag this: If this happens, simply allow the site as part of your "trusted zone".
26 October, 2019. Network outage:

At approximately 0137 MT on this day the connectivity to the Northern Utah WebSDR was lost: It appears to be a problem at one of the (several) wireless "hops".

Update: 0950 MT: One of the main wireless Internet trunks

(on a licensed frequency)

is offline, apparently affecting the feeds to several broadcast stations as well. It is being worked on.

Update: 1020 MT: The Internet connection is back up.
10 October, 2019. Added "manual" gain control:

A manual gain control - just below the volume control - has been added to the WebSDR interface. The default is "

AGC On

" in which the gain is automatically controlled by the amount of signal within the receive passband.

In manual mode, a slider is made accessible and the overall gain may be adjusted from minimum to maximum by moving the pointer to the left or right, respectively.

When in

manual

mode, please note the following:

Too little gain:

The audio will be very quiet and accompanied by lower-level noise and distortion.

Too much gain:

The audio will be distorted badly/noisy, particularly on signal peaks and static crashes.

PLEASE NOTE:
28/29 September, 2019. Power failure!

Caused by severe weather, there was a widespread power failure in parts of northern Utah

(Box Elder county)

that

included the WebSDR site and

the sites of some of the Internet hops and the duration of this power failure was long-lasting, exceeding the capability of most UPS

(battery back-up)

systems.

As of the morning of 29 September, it is believed that the power has been restored to most of the sites involved, but it is not sure that this is the case - and it may be that not all Internet gear has recovered gracefully, so one or more site visits may be required to verify the presence of utility power and diagnose/restore lingering issues. Because of the remote-ness of the locations involved, it will take some time to do this.

It would appear that the extended power failure didn't actually affect the WebSDR site itself, but rather one of the "hops" for the Internet connection, which did not come back up gracefully. The connectivity was restored approximately 12 hours after it was lost.
25 August, 2019. Comments:

Slow/erratic waterfall p

roblem on WebSDR1 now fixed - TWO issues noted:

HTML updated:

The above change didn't actually solve the problem, but a bit of testing revealed that there was some sort of typo in the underlying HTML used on WebSDR1 that had been the cause of the waterfall issues - but not serious enough to actually show up with the debugging tools built into a browser. The debugging was done by copying the version of the suspect HTML from WebSDR2

(where things worked fine)

to a test file on WebSDR1 and observing that it worked properly, so the

(minor)

modifications that are specific to each WebSDR were made to this copy and dropped into place on WebSDR1. Note that a "reload" doesn't load the fixed code, but closing the browser

(or just the tab with WebSDR1)

and opening it again

does

load the fix. (No, I didn't bother to go through the two files and do a comparison to see where the problem

really

was...)

Another Issue:

It was observed that running some Ad Blockers on the WebSDR pages seems to cause its own problem with the waterfall.

At the moment

there are no advertisements on the WebSDRs themselves - but various other scripts

(e.g. weather station reporting, perhaps one of the "widgets" at the bottom of the page)

seems to interfere with the timing of the waterfall causing it to move in fits and starts. If the waterfalls' being a bit jerky bothers you, consider disabling the ad blocker on the WebSDR main interface page.
18 August, 2019. Comments:

Slow/erratic waterfall on WebSDR1 (Yellow):

It was noticed that, for the past "little while" that the waterfall scrolling on WebSDR1 was a bit erratic/slow when there were 50+ users - something that was not true several months ago: This was

likely

not related to network connectivity or processor loading as this was not occurring on WebSDR2 or WebSDR3. On a hunch, the WebSDR service on WebSDR1 was stopped and the log files - some of which were approaching half a gigabyte - were renamed so that the WebSDR service - and the operating system - did not have to deal with such large file structures. As of the time of this writing, it is not known if this "fixed" the issue... yet...
5 August, 2019. Comments:

On-site power failure:

Likely due to very intense local thunderstorms

(there were many in the area then!)

the utility power at the WebSDR site was off for an hour between approximately 2305

(on August 4)

and 0010 local time - and since there is no UPS currently on-site

(see notes on 31 July site visit)

there was no way to provide back-up power.
It's worth noting that the UPS, had it been working, would have only provided 40-50 minutes of back-up, anyway, so there would

still

have been an outage. As far as can be determined, everything came up automatically and is working again.
4 August, 2019. Comment:

Intermittent overload on the "AM-160M-120M" band:

It has been observed that the "

AM-160M-120M

" band is being overloaded at time. It would appear that one of the single-frequency notch filter

(specifically, the one tuned to 1160 kHz)

is suffering some sort of intermittent connection: When this notch filter is working properly, the signal level at this frequency should be in the area of -48dBm - but when this notch is non-functional that signal may exceed -30dBm, causing overload of the analog/digital converter in this receiver.

IMPORTANT:

If you have been using this receiver for 160 meters, it is recommended that you use the dedicated "

160M

" receiver, instead: It is completely different hardware and it is unaffected by this issue - and this receiver has higher performance, anyway.
Why are there two receivers that cover the 160 meter band, anyway? Why not - the hardware for the "

AM-160M-120M

" receiver is capable of working over a 2 MHz range, so allowing some overlap was trivial - and the dedicated 160M receiver misses the top and bottom 4-5 kHz of the 160 meter band.
31 July, 2019. Comments:

Site visit:

Main 12 volt supply replaced.

The ailing 12 volt supply that runs the all of the softrock receivers and RF amplification has been replaced with a heavier-duty commercial unit that has also been equipped with - but does not rely on - a cooling fan. This has restored the gain of the various amplifiers in the signal paths and gotten rid of the strong hum components in the center of the 160, 17 and 12 meter receivers.

Cooling fans replaced on KiwiSDRs.

The original fans that had come with the KiwiSDRs' metal cases were of rather poor quality and out of four receivers owned, all four fans had failed after about a year. Name-brand ball-bearing fans were located and installed.

Pre-processing for KiwiSDRs changed:

To account of the differing dynamics of the HF bands over its frequency range

(e.g. lower HF frequencies are noisier and signals are generally stronger than on the high end)

a "limited attenuation high-pass filter" had been constructed to reduce signal levels below approximately 10 MHz by about 12dB

(e.g. 2 "S" units)

to prevent overload when strong, lower-frequency signals were present - particularly when additional gain

(10-12dB)

was added. The original filter attenuated

all

of these lower signals, but a new filter was constructed that provided the same attenuation below about 10 MHz, but offered minimal attenuation below the AM broadcast band to restore sensitivity at these lower frequencies where the main receive antenna is already rolling off.

UPS issues:

It was noted on a previous visit that the UPS had failed, but further investigation revealed that a transfer switch used to allow swapping out the UPS - or adding a second unit - had "welded" a contact and that when the UPS was active, its input was connected it its output, damaging the UPS. The UPS and transfer switch have been retrieved and repair or replacement

(as appropriate)

will follow. The entire system had to be powered down to remove the transfer switch.

LF/MF power supply repaired:

The power supply that fed the signal path for below approximately 400 kHz

(on the KiwiSDRs - and 2200 meters on WebSDR3)

was repaired. There are still some issues with the LF/MF antenna that feeds this signal path that will be addressed on a later visit, but it is working - more or less. Initial indications are that the receivers are working about as before on 2200 meters, but additional work is needed to optimize performance.

80CW/40CW bands swapped:

It was observed that these two bands were swapped. It seems that these to bands transposed themselves: It is unknown if this happened today, or a few days ago when it was discovered that the UPS had failed and an unplanned power outage had occurred. These two bands have the same model USB sound card and this is no doubt related to the fact that USB enumeration becomes "flaky" when you have more that one of the same-type device: Usually, using the same physical port keeps things in order - but apparently that doesn't

always

work.
27 July, 2019. Comment:

Main bus undervolt and degradation of receivers:

A few days ago it was observed that the gain of the "broadband" signal path had decreased - an issue manifest by a noted drop in gain of the "AM-160-120M", 15 and 10 meter receivers and an across-the-board gain of the KiwiSDRs plus the appearance of strong mains-frequency hum in the middle of the passbands of the 160M, 17M and 12M receivers. On a brief site visit the main 12 volt bus voltage was checked and it was found to be about 8 volts with a significant amount of AC mains ripple on it - explaining both the loss of gain due to voltage reduction of several RF amplifiers and the hum on the 160M, 17M and 12M receivers.

Inspection of the main 12 volt power supply indicated a "semi-catastrophic" failure of several key components - but much to our amazement, it was still working... sort of. An attempt was made to reconfigure the power supply to help it along, but the parts/pieces were not on-hand for this impromptu visit: This condition - which appeared almost a week ago - will have to remain until we can get a new power supply on site.

In this current state,

all

of the receivers are at least slightly affected, but the impact on most of the receivers is difficult to discern because the signal marginwas

just

adequate

(from the beginning, by design)

to be able to tolerate some amount of degradation.
The power supply for the MF/LF signal path was repaired, restoring service.


It is unfortunate that the testing of the power supply had to occur at a time that concided with the Utah Beehive net - we are sorry for the inconvenience.
26 July, 2019. Comment:

Web Server offline:

For several hours today the "sdrutah.org" web page was inaccessible during several outages - some of them quite long: This issue did not affect the WebSDRs themselves - only the "landing page". This is a follow-on problem from the July 18 operating system by the web hosting service: Apparently, they've had their hands full, having mis-configured something when they did updates of their customers' servers - and they now going back and fixing the issues.
22 July, 2019. Comment:

MF/LF Signal Path offline:

It would appear that the signal path that provides signals at frequencies below approximately 400 kHz is offline - the cause is unknown. What this means is that 2200 Meter receiver is deaf and signal below approximately 400 kHz are not present on the KiwiSDR receivers. This issue will be addressed on a future site visit.
19 July, 2019. Comments:

Quick site visit:

KiwiSDR1

and

KiwiSDR2 had gone offline due to fan failures and heat. All three KiwiSDR units were relocated to a lower location

(because heat rises!)

and their top covers removed. The fans in their cases were inexpensive sleeve-types: They are to be replaced with better-quality ball-bearing types on a future visit.

Flaky cable on KiwiSDR3:

It was observed that the antenna cable feeding KiwiSDR3 was intermittent. A spare was on-hand and the problem was fixed: The end of the flaky cable was clipped off preventing its re-use.


UPS Failure.

While there, the UPS was checked - and it was found to have failed. It has been removed from the circuit by virtue of an A/B transfer switch that allows swapping/replacing computer power sources without interrupting the load. Unfortunately, the load was interrupted when the UPS, trying to go online, "chattered" instead of simply dropping out when it failed to carry the load causing all servers to reboot - but everything came up cleanly - I think...
18 July, 2019. Comment:

Server upgrade by web hosting service:

On the evening of Thursday, 18 July, 2019 at around 1800MT the "sdrutah.org" web pages were unavailable. This situation was temporary - lasting less than an hour - as the Web hosting service upgraded the server from Ubuntu 14.x to 18.x. No changes should be visible to the users upon completion of this upgrade.
5 July, 2019. Comments:

"Bug" fixes on new pages.

Initially, with the new pages it was not possible to embed the frequency and mode with the URL, but that has been fixed now - we hope. You can now include the frequency and mode if you like, as in:

http://sdrutah.org/websdr1.html?tune=7272lsb

- which will go to WebSDR #1 and tune to 7272 kHz, lower sideband.
The redirect did not previously work with the

Microsoft Edge

browser: It appears to do so now.
The "buttons" on the WebSDR GUI

(page)

that sent you to another WebSDR server to cover a different band had been "kludged" to work with the new scheme - but they didn't really do what they were supposed to do - which was to send the user to the "new" web pages - because of the inability to embed the frequency and mode in the URL: They do now!

Low gain on the KiwiSDRs below 500 kHz.

It has been observed that at frequencies below the AM broadcast band, the KiwiSDR is a bit "gain starved" - a result of the "Limited attenuation high-pass filter" that had previously been installed to prevent it from being overloaded on signals below 8 MHz. At some future visit, this filter will be modified to "pass around" such frequencies. For more information about this high pass filter, read the article "

A Limited Attenuation High-Pass Filter for the KiwiSDR

". This article does not yet include information about the modification to allow the <500 kHz energy to pass through.
19 June, 2019. Comments:

Internet connectivity issues!

The Internet connectivity has, at times, been suffering from jitter and delays - a likely result of ongoing issues with one of the wireless hops connecting the site. To remedy this situation, we will be transitioning to a different Internet Service Provider.


Because of this,

there will be an interruption to this WebSDR system

during the transition. The exact timing of this change is yet to be determined: Additionally, there may be the complication of this system needing to change its URL.

We will attempt to give as much notice as possible prior to this change.


In the meantime, occasional drop-outs may be mitigated by increasing the buffering using the

Audio Buffering

drop-down menu just below the WebSDR's volume control.
For more information about this change,

please read this

.


Thank you for your patience.
8 May, 2019. Comments:

"When it rains, it pours - and flashes lightning!"

"160M", "20CW", "20PH", "17M", "15M", "12M" and "10M" receivers offline.

Due to an apparent lightning strike, the receivers listed above are offline

(extremely deaf, actually)

. This strike apparently wiped out two RF amplifiers in the signal path: The one for the

"160M"

receiver, and another amplifier that provides gain for all amateur bands above 30 meters.
In the meantime, the

"AM-160M-120M"

receiver can provide a degree of coverage for 160 meters.

Unfortunately, there is no similar back-up for the 20-10 meter bands' receivers.

It will likely take a site visit to restore operation and it is expected that this will occur in the next 3-5 days. In theory, these amplifiers could be bypassed to restore some semblance of operation, but this is unlikely to happen before a "proper" site visit might occur.
1 May, 2019. Comments:

Sound card failures:

Unrelated to other issues, it would appear that there has been a failure either in two of the three USB sound cards on WebSDR1, or something amiss with the USB interface on the motherboard. In the past, we "lost" one of these sound cards in a similar manner: Everything was fine until the system was restarted, at which point the sound card refused to operate at the higher speed

(e.g. USB 2.0)

necessary for full 192 kHz band coverage.

In doing research, this type of failure

has

been documented elsewhere, so it is not unprecedented.

As a "work-around", the "80CW" sound card is now being used for "40PH", restoring full coverage of the SSB segment of that band. Unfortunately, image performance will suffer slightly because a "I/Q Balance" equalization could not be done - but this will go unnoticed in the majority of cases.

The "80CW" and "40CW" are using the "failed" hardware, but since it can operate only at 48 kHz, the coverage of those bands is limited.

For coverage of the missing 80CW and 40CW segments

use the back-up "90-80M" and "41-40M" receivers on WebSDR3 in the meantime.

A site visit to repair/replace the errant hardware will likely occur within a week of this date.

Firefox issues revisited - Audio stream stopping when a new tab is opened in the browser:
29 April, 2019. Comments:
24 March, 2019. Comments:

Power line noise:

With recent high winds and heavy rain, insulators on the power lines near-ish the WebSDR site are again making some noise, most strongly in the 2.5 and 5 MHz area. While this noise is occasionally audible on 160, 80, 60 and 40 meters during daylight hours, it is usually inaudible at night when these bands typically get noisier - particularly as the summer season approaches. We continue to work with the local power company to minimize this issue.

Update on RTL-SDR "gain block"

(see 26 February entry)

: Now that the AGC circuits for the RTL-SDR receivers for the 90-80, 60, 41-40 and 31-30 meter bands have been in use for about a month, I'm pleased to report that the results have been very good:

These modules have been very successful in preventing overload from strong signals on those bands while allowing enough system gain for good weak-signal performance.

It would appear that the 31-30 meter module needs a couple dB more signal gain during "quiet" periods when the bands are closed or in poor condition.

The bandpass filters used for 90-80, 60 and 41-40 meters may be replaced with "tighter" versions

(same bandwidth, stronger "skirts" to better-reject other signals)

- just because I can, but this is not a high priority project.

I may adjust the AGC threshold from the current setting of about 40% A/D full-scale - which seems to be working fine - to 25% full-scale so that I can observe the results to see if there are any improvements.

As expected, there are some RMDR-like issues with weak signals on the RTL-SDR based receivers

(e.g. weak signals "seem" slightly noisier than they should be, particularly if there are strong signals within the receiver's RF passband)

but these are only apparent in an "A/B" comparison between an RTL-SDR receiver and one of the "High Performance" Softrock-based receivers: The casual operator would likely not notice this. This is, no doubt, largely a result of the limited bit depth of the RTL-SDR receivers.


6 Meter receiver:

So far, the 6 meter receiver is behaving itself after the 14 March reset.

40 meter images:

It was noted that some images have been appearing at the low end of the

40 PH

receiver from strong signals

above

its coverage range.

For example, an SWBC carrier can sometimes be heard at 7133 kHz from a signal at 7325 kHz: 7325 kHz is 8 kHz

above

the opt of the 40 PH receiver

(which is at 7317 kHz)

and this image is therefore 8 kHz above the bottom end of this receiver

(at 7125 kHz)

.
This defect is due to the lack of a perfect "brick wall" filter above the 96 kHz Nyquist frequency

(with the 192 kHz sample rate)

"wrapping around" and appearing at the bottom.
This issues was

not

known to occur prior to the 30 December "hardware shuffle" where the sound card that had been used for 80CW was swapped with that used for 40PH. It would appear that the "old" sound card was more resistant to this aliasing.
We plan to "re-swap" the sound cards on the next site visit because of the larger overlap on 80 meters and the lack of very strong SWBC signals on 80/75 meters

(as compared to 40 meters)

which means that not only should this problem be less likely occur on 80CW, but the larger overlap allows user to "dodge" such aliasing should it occur.
The actual suppression of this image appears to be on the order of just 12dB - increasing to 50dB by the time one gets to 136 kHz

(which correlates to 7355 kHz)

- which is much poorer than expected and why we plan to make this hardware swap.

14 March, 2019. Comments:

6 meter receiver offline (WebSDR2 - Green):

It was noticed today that the 6 meter receiver is currently offline. An attempt was made to restart the driver, but this attempt failed with errors indicating that something was amiss with the receiver hardware itself.

A server restart will be attempted in the late evening when there is typically little use on the Green WebSDR (#2).


This receiver uses an inexpensive

($20)

RTL-SDR dongle, so replacing it won't be a big deal - except for the 3 hour round trip drive to do so! It is likely that replacement will simply wait until the next trip to the site to do other work, which will likely not occur until early April at the soonest - unless something else breaks!

Update - 6 meter receiver back online:

After a restart of the WebSDR service failed to bring the 6 meter receiver back online, WebSDR2 (Green) was rebooted remotely: This seems to have restored operation of the 6 meter receiver... for now...



27 February, 2019. Comments:

Added "Mode" indicator: Something that had been bugging me from the time we put the WebSDR online was the fact that may not have been obvious what "mode"

(LSB, USB, CW, FM, AM)

had been selected: The only way to "see" this was to take a close look at the size and position of the shape of the filter on the waterfall display - or one could simply click on a mode button to know for sure. I

finally

got around to adding a "Mode" indicator which can be seen just to the right of the frequency display - where it belongs.

Analysis of the RTL-SDR "gain block":

Initial indications are that the AGC gain block for the 90-80M, 60M, 41-40M and 30M RTL-SDR based receivers are working exactly as expected. As we move into summer we'll see how it behaves in the presence of lightning static.

26 February, 2019. Comments:

Kiwis offline:

A site visit was made, noting that the KiwiSDRs had been offline for about a day, apparently due to crowbarring of the power supply. On the next visit modifications will be made to the supply that will (hopefully) make it more resistant to this.

Maximum number of users increased:

For

WebSDR1

(the "Yellow" one)

the maximum number of allowed users has been increased from 90 to 125. This should

(for the time being)

alleviate the denials of service that one might have been getting during very heavy usage periods. In the next "month or two" the Internet connection to the WebSDR system will be changed to one that is

(hopefully)

more robust and further increases in the number of users can be accommodated.


Oops:

A previous modification - replacing an amplifier in the early stages of the broadband branch- was undone. It had been noticed that this amplifier

(a MMIC type)

, which had been replaced to provide a bit more gain and lower system noise figure

(again, for the broadband branch)

was causing low-level intermod and the problem was assumed to be overdriving of the subsequent stage. When a gain adjust was added after this "new" amplifier the problem did not diminish and several weak spurious signals were seen drifting through the 0-30 MHz passband from this branch indicating that this amplifier was oscillating - likely at VHF/UHF - and was likely responsible for the problems. Unfortunately, this could not be tamed with components on-hand so the previous known-stable bipolar amplifier was re-installed.

"New" Bands - "90-80M"

and

"41-40M", improvements to 60 and 30 meters:

A newly designed and built module containing four bandpass filters, each followed by a wideband AGC gain block was installed in front of four RTL-SDR based receivers on 60 and 30 meter bands. Two "new" bands were installed at this time on the "blue" server

(WebSDR #3)

- 90-80 Meters and 41-40 Meters.

These cover all of the 80 and 40 meter bands, respectively, but also their adjacent SWBC bands, namely 41 and 90 meters.

These "bands" provide a usable "back up" for the popular bands

(80/75 and 40 meters):

In the event that WebSDR1 were to go offline and could not be restored remotely we would point users to WebSDR3 where it is likely that they could operate as normal.

Being RTL-SDR based they are considered to be "low performance" receivers - but they should be "good enough" for casual use when signals are reasonably good.

The AGC gain block in front of each of the respective RTL-SDRs is designed to prevent the RTL-SDRs from "seeing" signals that average more than about 1/2 full-scale on their A/D converters, which should prevent overload. The use of this module also allows these dongles to be run a bit "hotter" than on normally would, improving their performance when the bands are "quiet" with the AGC preventing overload when very strong signals

(mostly shortwave broadcast)

are present. These modules will be described in more detail, soon.

The 60 meter receiver also runs through an AGC gain block allowing its sensitivity to be increased while preventing it from being overloaded by strong SWBC stations.

The 30 meter receiver has a newer, "tighter" filter to improve its performance and it also has an AGC gain block like the 60 meter receiver which should also improve both weak and strong signal handling properties.

21 February, 2019. Comments:

A modification was made to the code on all of the Northern Utah WebSDR servers so that the default amount of audio buffering is now 0.25 seconds rather than the original 0.125 seconds buffering. This slight increase (by 1/8th of a second) is likely more appropriate for real-world Internet connections and should reduce the number of audio drop-outs. If desired, the original value may be selected from the "Audio Buffering" drop-down menu.

The most common cause of audio drop-outs is the changing of the "focus" of the operating system away from the browser window with the WebSDR. For example, if you switch the browser to a different tab, switch to a different program or even minimize a browser window your computer will dedicated fewer system resources to processing the WebSDR audio. Slower computers are more prone to audio dropouts in this case. Increasing the buffer

may

help this situation, but it is often a matter of the computer not processing the data from the WebSDR often enough in its round-robin servicing of the running applications to keep the system's audio buffer full.
Another cause of drop-outs is the heavy use of ones Internet connection - perhaps due to watching videos from online services

(e.g. Netflix, Amazon, Hulu, YouTube, etc.).

In this case, more buffering will likely reduce the likelihood of drop-outs.

11 February, 2019.

KiwiSDRs offline.

It would seem that all three KiwiSDR units on site went offline at about 1702 MST on 10 February

(0002, 11 February UTC)

.

When this was investigated on 11 February (at approx. 1125 MST) it was noticed that both halves of the redundant 5 volt linear power supply had "crowbarred" - that is, its overvoltage protection had tripped. Unplugging the power supply for 60 seconds to allow the capacitors to drain and plugging it back in restored operation. The cause of this crowbarring is currently unknown: Because these supplies are in "diode-ORed" redundant configuration, one of the power supplies could have tripped out earlier without being noticed. We are considering means of remotely monitoring/resetting this and other power devices.
29 January, 2019.

Comments:

Audio drop-out issues:

There has, in recent days, been more data jitter on the Internet connection to the WebSDR site: Our network guru is looking into this problem to see if there is a reason/fix for this. An upgrade of this same equipment is pending warmer weather and the availability of time to do so.

The control of the "additional audio buffering" has been enhanced to allow the connection to better-deal with "flaky" connections.

There is now a drop-down menu labeled

Audio Buffering

that has several options

+0.125sec:

This uses about 1/8th of a second of audio buffering, which works out to approximately 1/4 to 1/2 second of total delay between the signal arriving at an antenna and you hearing it on your computer, assuming minimal latency of the Internet and your computer's processing.

+0.25sec

: Another 1/4 second is added to the audio buffering.

This is currently the "default" setting for buffing on this WebSDR system.




+0.5sec

: This adds another 1/2 second to the amount of audio buffering: This amount of extra delay is generally tolerable if you are using the WebSDR as your primary receiver during a QSO.

+1sec:

This adds a bit more buffering - one whole second more.

This amount of buffering may be a bit painful/awkward if you are participating in a round table or net.

+2sec:

This adds

two

seconds more of audio buffering. While this is fine for casual monitoring of signals,

you probably don't want to set it like this if you are involved in a net or a round table!

Important Note:

The waterfall and S meter are always near real-time and

not

affected by the change in buffering: As more audio buffering as added, the waterfall and S-meter will increasingly seem to "lead"

(e.g. be ahead of)

the audio that you hear.




Remember:

There are several possible causes of audio drop-outs in addition to issues that may be occurring at the WebSDR site:

Note:

As mentioned in a previous posting, additional gain installed in the broadband coupler

(which feeds the KiwiSDRs, the SWBC, AM BCB and 60 meter receivers)

has resulted in occasional intermod/spurious signals being audible on the above receivers - particularly a few "shortwave" sounds being audible in some places on the AM broadcast band. This will be corrected on a future site visit when there is time to do a proper "gain balancing".
13 January, 2019. Comments on work that was done on the WebSDR system on this day:

All WebSDR servers:

Replaced the original dual-core 2.93 GHz processors with 3.0 GHz quad core processors. This should allow more stations to use the WebSDRs and experience fewer audio drop-outs and faster response. To be sure, the most common cause of audio drop-out is on the Internet connection between the server and the user and not due to the server itself as well as in user's computer - particularly when the web browser being used is operating in the "background" - especially when other programs are running.

LF filters installed on Server power supplies:

It was observed that the power factor correction circuitry in the servers produced a strong signal in the 125-140 kHz range and it was hoped that this was the source of the noise that was clobbering the 2200M/1750M when using the E-field whip. Unfortunately, that noise source was not

(mainly, at least)

from the power supplies, hence the installation of the H-field shielded loop mentioned below.

2200M/1750M antenna changed:

A low-noise shielded H-loop was installed for the 2200M/1750M receiver to help reduce the gaw-dawful noise that was present. On installation the loop antenna was rotated to null the noise source that was found to be either to the north or the south. What this means is that all signals originating from locations due north/south of the Northern Utah WebSDR site will fall into this null on any frequency below about 350 kHz - both on the "2200M/1750M" band on WebSDR3 and on the KiwiSDR receivers on site when tuning below 400 kHz.
7 January, 2019. Comments:

Maximum number of users increased to 90 on WebSDR1: It was observed that the number of users on WebSDR1 would occasionally hit the

(then)

maximum user count

(75)

prompting an increase on that server - a change that required a restart of WebSDR1, which occurred at about 0630, 7 January, 2018, UTC.

The current settings for the maximum number of users are

:

WebSDR1 (yellow):

90 users. WebSDR1 is, by far, the busiest of the servers as it hosts both the 40 and 75 meter phone bands which are the mostly heavily used for nets and ragchewing.

WebSDR2 (green):

75 users

(no change)

WebSDR3 (blue):

60 users

(no change)
27-28 December, 2018. Comments:

Problems on WebSDR1:

Seemingly because no good deed goes unpunished, a known bug related to USB hardware reared its head: Several of the USB ports - starting with the 160 meter receiver's sound card - suddenly "downgraded" their connection from USB2.0 to USB1.1.

The upshot of this is that the

160m

,

40cw

and

40ph

bands - all of which use USB-connected sound cards

(Asus Xonar U5 and U7)

- could no longer support a sample rate greater than 48ksps - a far cry from the needed 192ksps.

Originally, it was just the 160 meter band that had this problem so a reboot was performed remotely - but the problem spread to the other two sound cards that provide 40 meters, also USB devices..

In researching this problem it became clear that any means of completely resetting the USB hardware via command-line was unknown - but the work-around was simple: Completely remove the power from the computer for a short time to allow the hardware to reset.

(Note: Even when the computer is "off", the USB hardware may still be powered up.)

This was tried, but the problem didn't resolve: There may have been some sort of subtle hardware failure, or it may be required to keep the unit powered down for a much longer time than was tried.
As a temporary work-around, the

40ph

and

80cw

receivers' connections have been swapped to restore full 40 meter phone coverage, albeit at the expense of some 80 meter cw coverage: Because 40ph is the more-popular band, we believe the trade-off to be worth-while.
The errant hardware (

160M

,

80cw

and

40cw

after the above shuffle) has been reconfigured for 48ksps, but this dramatically reduces the frequency coverage on those bands/segments, but it's better than nothing!

Please note that while only partial 160M coverage is available on the "high performance" receiver, the "AM-160M-120M" receiver should work fine for most 160 meter use.

At the next site visit

(scheduled for 30 December)

we will investigate this problem and try to determine a "permanent" fix.

16 December, 2018. Comments:

Powerline noise:

The powerline noise has been quiet recently

(knock on wood)

and it is not known if this can be attributed to repairs by the utility, or because of the season and recent "washing" of the lines' hardware by rain and snow. Let us hope that it never returns!

Comment:

Some powerline noise appeared again two days after originally posting this - go figure...


Modification of S-meter "peak" reading:
24 September, 2018. Comments:

Modification of "Bandwidth" menu:

The "wider" and "narrower" buttons that had been to the right of the mode selection

(USB, LSB, AM, etc.)

have been removed as they were redundant: These same settings

and more

were already available under "Passband Tuning" just below the mode selection. The removal of these buttons makes the box slightly narrower and may help improve layout/presentation at some screen resolutions.

Powerline noise:

A long-running issue has been powerline noise. Some of the culprit poles have been identified, but it is entirely up to the power company to decide when something might be done about them. At present the worst powerline noise is centered in the general area around 2.5 MHz - outside any amateur bands - but it can affect the low bands

(160, 80, 60 and 40)

during daylight hours when these bands are typically very quiet.

21 September, 2018. Comments:

Sedona, AZ WebSDR shut down:

After about 6 years of operation, Steve, W7RNA has shut down the Sedona WebSDR. Steve, W7RNA says, "

...I have taken down the WebSDR at Sedona. Except for daytime regional coverage in Arizona and New Mexico, KFS and Utah WebSDRs cover the West so very well now, that I thought this was a good time to turn off Sedona as being effectively redundant.

The existing W7RNA links now forward to the two year old Kiwi SDR at the same location. As you probably know, the Kiwi is limited but it can still serve Arizona and New Mexico for the few users that still may need it during the day on 40 and 80m.

"

"AM-160M-120M" band coverage shifted:

The center of this band was shifted slightly so that it's center frequency (which is also the

default

frequency) lands squarely atop an even 10 kHz interval rather than several kHz off, barraging the user with distorted music. At present there's no way to select a default frequency

other

than shifting the entire receiver's passband and this limits our selection if we wish to be able to receive over this frequency range.


Intermittent network slow-downs:

Our rather long-length wireless Internet connections are sometimes showing down connectivity - but these "slowdown" periods seem to last only an hour or so. We're doing what we can to figure out a way around this.
10 September, 2018. Comments:

Network Outage:

On the evening of September 9

(local time)

the combination of bad weather, a bird's nest and faulty insulators on the power line that feeds one of the microwave sites that provides Internet connectivity to the Northern Utah WebSDR disrupted operations when that site lost power for several hours. While the back-up battery at that site held for a time, the duration of the outage exceeded its capability while the local utility crews worked late into the night to replace the failed hardware. The duration of the network outage was approximately 3 hours and 45 minutes.

Expansion of WSPR decoding capabilities:

On 8 September reconfigurations made it possible for up to 12 simultaneous "bands" to be used for receiving and decoding HF WSPR transmissions but only 8 or 9 channels will typically be used at one time. This is done by using an on-site computer

(WebSDR3, actually)

to make local network connections to the on-site KiwiSDR receivers and pull audio from them from virtual receivers tuned to the WSPR frequencies

(these show up as a user called "kiwirecorder.py")

which are saved as files and then processed to recover the WSPR transmissions. As a reminder, the KiwiSDR receivers can each take up to 8 users, but only the first two users on each will get a full-bandwidth waterfall display: These recording channels do not use any of the waterfall capabilities. The results of this effort may be seen at the wsprnet.org site with the contributor being "KA7OEI-1". It is hoped that future efforts will enable things like contributions to the RBN

(Reverse Beacon Net)

and similar.

17 September, 2018. Comments:

Over the past several months we've been having issues with the wireless Internet connection to the WebSDR spontaneously "re-training", causing an outage of between 30 seconds and 5 minutes. The reason for this seemed to be something amiss with the firmware on the radio link between the WebSDR site and the next point on the network. We

think

that this problem has been resolved after firmware/hardware updates.
A

different

problem occurred a few weeks ago when one of the main wireless trunks, which had been been capable of passing up to 1 Gb/sec of traffic suddenly decided that it would only negotiate to 100Mbps. During the "off" hours of the day this wasn't so much of a problem but since the peak traffic on the network could be over 350Mbps, dropped packets and audio issues could result. This "bottleneck" has been fixed as of about a week or so ago: We were just watching it to see if it was

really

fixed before updating this and the main WebSDR pages.

Ongoing issues:

Powerline noise:

We have identified the suspect poles and passed the information to the power company. All we can say is: "They will fix it when they do."
The "warbly"

:

As noted in the

30 June, 2018

entry and the

9 June

and

16 May

entries there is a "warbly" that often shows up when the band is very quiet

(e.g. 40 meters during the daytime)

- one of its harmonics seeming to frequent the area near 7272 kHz, where the Utah Beehive Net meets. This is

still

on our list to address, but again, it will take climbing to about 60 feet on a tower and pulling up excess service cable in order to add the ferrite devices that

(we think)

should quiet a POE

(Power Over Ethernet)

device mounted there.

Occasional "crackle-crackle" on received signals - particularly the lower bands:

As noted earlier, one of the guy wires on the antenna will occasionally touch an active antenna element when it is very windy. We are trying to figure out how to access and insulate these two conductors - but their being at about 80 feet

(24 meters)

up the tower doesn't make it easy!

A few instances of low-level QRM from miscellaneous switching power supplies:

While not easily noticed

(unless you knew exactly where to look)

there are a few "birdies" from other switching power supplies on site - typically on the lowest band

(e.g. 160 meters and below.)

Intermodulation on some lower bands

(<=80/75 meters)

during the daytime: During daylight hours one may notice a few instances of intermodulation distortion on some of the lower-frequency bands, particularly below 2 MHz. Much of this energy appears to be re-radiated from rusty barbed-wire range fencing surrounding the receive site but it's possible that at least some of it may be happening in the receive antenna itself and even some of the RF distribution. Practically speaking, this hasn't been much of a priority to fix because:

The majority of the strong signals

(several of them 50kW stations)

are reduced in power at night in accordance to conditions of operation imposed by the FCC to minimize their interfering with other stations.
At night, these bands

(80/75, 160, 630, etc.)

become more "alive" and compared to the daytime, the background noise actually increases, drowning out the intermodulation products that might otherwise be audible even after the stations reduce their power at night.

12 August, 2018. Comments:

A Second KiwiSDR was installed at the site and some minor networking issues were resolved allowing both of the Kiwis to show up on the main list at the

sdr.hu

(link)

site. The URL for the first

(main)

unit is

kiwisdr1.sdrutah.org:8073

. For more information, read the KiwiSDR section of the FAQ.

Please read and understand the following:




If you are doing casual listening on the amateur bands,

PLEASE

use the main WebSDRs instead! The reason for this is that the main WebSDRs can handle

dozens

of users at once, but the KiwiSDRs can handle, at most, only 8-10 users. Most of the receivers on the main WebSDRs are better performance than the Kiwi, anyway.
These receivers are configured to allow "roll-over" so that if all of the receiver channels on the first

(main)

one are occupied, it will forward to the second.
Each of these receivers is configured in the "8 channel" mode which means that only the first

two

receiver instances will have a full-bandwidth waterfall. At some point in the near future the "other" receivers may get a more limited waterfall.
Each of these receivers have several channels dedicated for WSPR use and are

not

available for general use showing up on the WSPRNET web site as "ka7oei-1" and "ka7oei-2" for units 1 and 2, respectively: These WSPR-only "receivers" do not utilize any of the limited waterfall capabilities. Clicking on the Kiwi's

USERS

tab will show the current status.

At this moment, casual users are only allowed 90 minutes total use during any 24 hour period: Abuse or lack of it will dictate the need for any adjustments either way.

Both KiwiSDRs use the same omnidirectional antenna as the main WebSDR system so receiver performance should be pretty much identical to other receivers covering comparable frequencies.

The KiwiSDRs do

not

work with Internet Explorer

(and never will)

and do not count on them working properly with mobile devices!
There are a number of "extensions" that allow reception/analysis of various types of signals, including RTTY, FAX and WSPR. There is also a "TDOA" feature that can help one determine the geographical location of a particular signal - but there is a bit of a "learning curve" in using it - I would strongly recommend reading

EVERYTHING

in the "help" tab that appears - and the linked page(s) - when you invoke the TDOA mode. Remember:

RTFM

!

(such as it is..)

The features and configuration of the KiwiSDR receivers

WILL CHANGE

over time as software evolves and as circumstances warrant.

Enjoy!
8 August, 2018. Comments:
7 July, 2018. Comments:

Those who use the WebSDR on 80/40 meters during the day will likely have noticed an elevated powerline noise floor: At night, this noise is submerged in the normal background noise of these bands. Being that the WebSDR site is an 80 mile

(130km)

drive for me each way, I understandably try to limit the number of trips that I have to take - particularly since it involves nearly three hours driving and

(at current prices)

$30-$40 of gas for each round trip!
On this day I went to the WebSDR site and carrying a 2 meter AM/FM direction-finding receiver

(a VK3YNG unit)

, a 3 element tape-measure beam, my FT-817, a battery, a 3 foot

(1 meter)

diameter shielded H loop, a homebrew ultrasonic down-converter and a small plastic parabolic dish with an ultrasonic transducer, I tromped through chest-high

(5 feet/1.5 meter)

swamp grass in 102° F

(39C)

heat, following about 2 miles

(3.2km)

of powerlines looking for noise sources. With this effort, three power poles were found with very strong, vertically-polarized noise

(at VHF)

and one of these had just-detectable arcing noise at ultrasonic. I also found a "corner" power pole on this 38kV line on which one if its deadmen

(guy wire anchor in the ground)

had completely pulled out in the direction of the greatest force. Taking pictures of the suspect poles, these will be reported to the power company: Particularly in light of the failed anchor, we are hoping that they will do what they do to quash this type of noise.

The 25 and 19 meter bands' filters were analyzed in-situ and it has been determined that over the 25 meter SWBC band, the image response (centered at approximately 16.8 MHz) is attenuated by approximately 26dB while the image response in the 19 meter SWBC band (centered at approximately 13.55 MHz) is attenuated by approximately 22dB. Because of its proximity to the 14.4 MHz Nyquist frequency of the RTL-SDR dongle

and the finite "sharpness" of the band-pass filters

, the image rejection at the 14.67 MHz CHU

(Canadian time station)

is only about 8dB at the 14.13 MHz image frequency. While these values are certainly mediocre, they are adequate for casual listening on these bands and far better than many inexpensive "all band" shortwave receivers of the past. I may, in the future, modify/replace these filters with "sharper" versions with stronger image frequency attenuation.
It might be noticed that some of the 25 meter SWBC band images fall in the 22 meter SWBC band centered at approximately 13.75 MHz, which correlates to 15.08 MHz. What this means is that some of the stronger 22 meter SWBC signals are likely to appear in the lower portion of the 25 meter receiver's passband.

3 July, 2018. Comments:

Michael was able to drop by the WebSDR site

(he lives in the general area)

and adjustments were made to the 25 and 19 meter SWBC band receivers - namely the gain block before the filtering was moved to the output of the 19 meter filter and the signal path attenuation was adjusted for both bands. Initial indications are that, at least for moderate/good band conditions, the receivers should overload less often.

In addition, the 19 meter receiver was configured for 1.5 MHz bandwidth and it now includes 14670 kHz - the frequency of the Canadian time station, CHU. Please note that especially below 15 MHz, this receiver is prone to images from below and in the 20 meter amateur band - the inevitable result of the Nyquist frequency of the RTL-SDR dongle used occurring at 14400 kHz!
The new deadman anchors with the tower in the background and the guys being tensioned.
Click on the image for a larger version.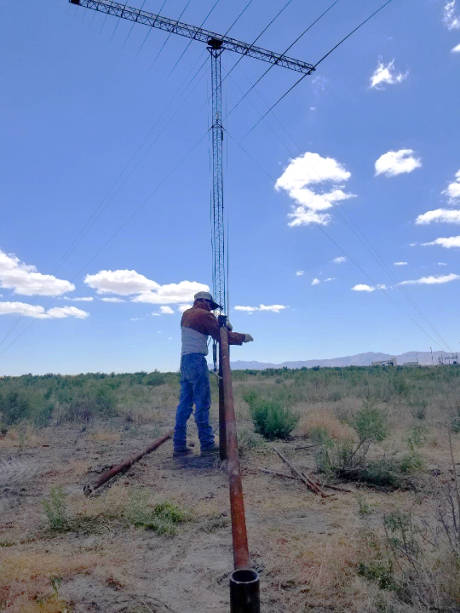 30 June, 2018. Comments:

New UPS installed:

As noted in the 12 June entry, the 500VA UPS failed unexpectedly

(what other kind of random failure is there?)

and a "new" 700VA UPS was installed - not as nice as the "old" one, but it should serve its purpose. At this same time a simple transfer switch

(a mains-powered DPDT relay in an electrical box)

was installed that allows us to change in/out other UPSs in the future - and it will automatically switch the mains power, should the new UPS fail, from the "A" source

(the UPS)

to the "B" source

(the wall socket).

The 25 and 19 meter shortwave broadcast bands (SWBC) were installed:

On WebSDR 3

(the "blue" server)

some RTL-SDR dongles with filtering were installed to provide coverage of these two shortwave bands. While the levels were adjusted appropriately at the instant that we installed them, it is clear that we missed the mark and that the receivers sometimes overload very badly resulting, at times, in a cacophony if noise, overlapping audio signals and distortion..

Please consider the operation of the 25 and 19 meter receivers to be a work in process!

As noted on the "Technical Info" page, these RTL-SDRs, with there limited dynamic range, required a certain amount of finesse to adjust properly to accommodate the majority of weak and strong signal conditions. These levels cannot be adjusted remotely so they will be "dialed in" on future visits.

The 6 meter band

(the bottom 1 MHz, anyway)

has been moved to WebSDR2

(the "green" server)

: It would appear that the WebSDR software

(or, possibly, our server hardware)

will only "play nice" with a maximum of 4 RTL-SDR devices. When we added the 25 and 19 meter bands to WebSDR3

(blue)

the last receiver

("2M High")

would not initialize. For this reason we used the last remaining band slot on WebSDR2. It is configured identically to what it had been when it was on WebSDR3.
One of the power line noise sources

(possibly)

located: We

think

that we found a power pole that is one of the sources of AC mains noise that becomes apparent when the lower bands

(80/75/40)

are at their quietest

(e.g. daytime)

. When we approached the pole in question it was noted to have a damaged insulator on one of the phases: We will report this to the power company. It is very likely that this is

not

the only nearby power line noise source, but we have to start somewhere!

Internal gain blocks added to the 15 and 10 meter converters.

When the 10 meter converter was installed on 9 June it was noted that it was "gain-starved", so a general-purpose external gain block

(high-dynamic range amplifier)

was installed between it at the RTL-SDR dongle. A similar issue was noted on the 15 meter converter so an additional gain block was internally added to both the 15 and 10 meter converters and the levels readjusted for best performance. This additional gain should help when the band is very "quiet", bringing the signals comfortably above the receivers' noise floors.

The "warbly":

We did not get time to further-address the "warbly" mentioned in the 9 June and 16 May entries. To further reduce this noise will require pulling additional Ethernet cable up the tower

(the "other" tower, not the one supporting the antenna that we are using at present)

to get enough "service loop" to be able to add enough inductance to the cable to choke the common-mode energy. This warbly is audible only during daylight hours when the band is quiet and line noise is very low.
20 June, 2018. Comments:

Nearly 2 months ago the north deadman of the "other" tower (

not

the one supporting the receive antenna) pulled completely out of the ground during high winds - the worst of which usually come from the north at this location. In a stop-gap measure, one of the locals kindly parked his large, flat-bed farm truck and attached the the guy wires to it until he got room in his schedule to come back and replace the deadman - which occurred on this day.
Rather than excavating a hole and setting the new deadman in concrete, long, thick-walled steel pipes were pounded deep into the ground with a pile driver, the first one

(to which the wires were attached)

being belayed by another behind it, connected by a piece of heavy pipe. This method - used to tension many thousands of feet of fencing - has been used for decades with good results. In the near future, the other two deadmen will be similarly replaced although they appear to be sound... for now...

The "front" pole has, below ground, a large "spade" attached to it to increase its stability and "pull strength" in the soil.

While we won't mention up front how much this is costing us,

it's safe to say that it wasn't cheap!

It should, however, prevent this tower from suffering the same fate as its twin which failed in the very same way about a decade ago.
Now that we have better-stabilized this tower, we are looking into what can be done with the antenna which at 80 feet

(24 meters),

covers from 6 to 40 MHz and is

fixed

(there is no rotator)

on an 86°

(true)

bearing - just slightly north of due east

: We have not yet climbed the tower with an antenna analyzer to determine its usability.
18 June, 2018. Comments:

Power line noise finding postponed:

For various reasons, the "noise finding" trip that had been tentatively scheduled for 16 June never happened. The noise persists, so we still have a trip planned to hunt it down - but it will have to wait until after ARRL Field Day

(22-23 June, 2018)

as we have previous commitments.

Installation of the new UPS postponed:

This was going to be installed on the same trip as above.


Slight gain deficit on 15 meters:

It would appear that there is a slight gain deficit on the 15 meter band. While it seems to be adequately sensitive to weak signals, somewhat better performance could be had with another 6-10dB of signal gain. This band is served with an RTL-SDR dongle and a frequency down-converter (as described on the

RX Equipment

page) and as noted, the RTL-SDR units are both somewhat deaf and quite particular when it comes to the amount of gain in the signal path. On the next trip additional amplification will be put inline.

12 June, 2018. Comments:

4 hour power outage.

The WebSDR servers and network gear were off for about 4 hours due to the failure of the on-site UPS. While there was no actual power failure, the CPU within the UPS seems to have lost the ability to measure its own output voltage and it shuts off its output soon after booting up: After power-cycling the UPS, it will operate properly for several seconds before it shuts the inverter down due to "Low AC Output Voltage" as determined by the alarm code and the remote status reading. A "new" UPS is being lined up and will probably be replaced on 16 June. In the meantime, the UPS has been bypassed with the gear running directly from the mains.

Power line noise.

During the quietest parts of the day

(late morning through the afternoon)

there is noticeable AC mains noise on all bands 80 through 15 meters - most obvious if one listens using AM on 40 meters. The plans are to investigate this noise on 16 June and hopefully locate its source and pass along that information to the power company. As it turns out, some of the folks that service this area are also amateur radio operators, so it may be more likely to be fixed .
9 June, 2018. Comments:

With the addition of 12 meters, this WebSDR system now has coverage on

all

U.S. MF and HF amateur bands - 630 through 10 meters.:

12 meter band coverage.

The receiver formerly used for the limited 10 meter beacon band coverage was retuned and is now centered on the 12 meter amateur band, covering about 96kHz of this 100 kHz band.
The only HF bands that aren't

completely

covered are:

160M

: Even though the "main" receiver misses the top 8-10 kHz, the entire band is also covered using the "

AM-160M-120M

" receiver.

17M:

Approx. 96% of the band - missing the bottom and top 2-3 kHz.

12M:

Approx. 96% of the band - missing the bottom and top 2-3 kHz.
For a complete description of the band coverage, see the "

Technical Info

" page.

We have

(finally)

added a "Donate" button. If you wish to help support the WebSDR,

go here

to find out how you may donate via PayPal.

The signal strength of the "warbly" has been reduced.

The "warbly"

(see the 16 MHz comments)

was verified to be coming from a switching supply within a piece of wireless gear being radiated on the Ethernet cable. Despite there not being a service loop, four snap-on ferrite chokes were placed over the cable, at the source, noticeably reducing its amplitude. Unfortunately, without a larger service loop, it was not possible to put multiple turns of the cable through the ferrite devices which would have had far greater effectiveness at the frequencies of interest: This problem will be revisited later.

The 6 meter antenna was remounted.

Up to this point the 6 meter antenna

(a 1/2 wave J-pole)

was only temporarily mounted. On the new, permanent mount, the antenna is now much higher and completely in the clear so it should work better than before.

The main HF antenna feed connection was "exercised" and better-sealed.

Just outside the building, the large coaxial cable from the main antenna

(the TCI-530)

is adapted to a smaller cable

(RG-213)

for entry into the building. During the 21 March visit

(see below)

this connection was "shaken" to resolve an intermittent RF issue and during

this

trip

(e.g. 9 June)

the entire connection was un-taped and inspected and found to be in good shape, The connections were further-tightened and the entire termination was re-sealed using butyl rubber material and overtopped with another layer of sealing tape.

Ongoing power line noise issues

: There is a more-frequent low-level power line noise that can be heard during the "quiet" times

(e.g. during the middle of the day)

on the lower bands - notably on 80/75 and 40 meters: We are rounding up the necessary gear to do HF direction-finding to locate the source(s) of this noise so that we can report the location(s) to the power company.
Work being done on the power substation near the WebSDR site on 15 May.
Yes, those are bugs in the lights... Lots and lots of bugs.
Click on the image for a larger version.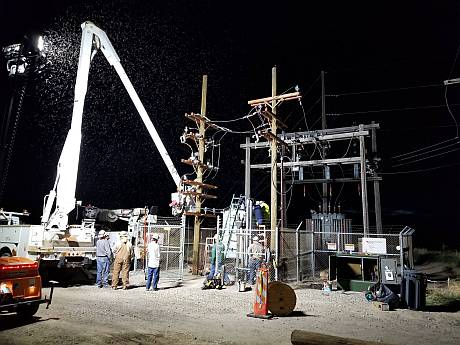 16 May, 2018. Comments:

Power loss at the WebSDR site due to utility work on 15 May.

The power to the WebSDR site is fed via a spur of a power line that feeds a pumping/compressor station of a nearby pipeline, and on 15 May, a "50 year" upgrade was done requiring that this power infrastructure be de-energized, which meant that the WebSDR site lost power. Being a minor customer on this same spur line, we didn't get notification of this work until the power had already been shut off. Because of certain complications

(e.g. most of us work for a living!)

we were not able break free from our normal tasks and get a portable generator up and running on-site immediately, so the system was down for 7 hours or so. The WebSDR site was on generator power until after the work on the substation was completed and the line re-energized.

Data drop-outs of 5-120 seconds.

It would appear that one of the radio links providing Internet connectivity to the WebSDR site is occasionally "renegotiating" its wireless connection, causing brief data drop-outs despite the fact that the signal level margins are very good. An upgrade of the affecting link is scheduled.

A weak "warbly" sometimes heard on 40 meters and other places.
3 May, 2018.

Comments:

The "Start Chrome audio" button has been added to the "Mobile" versions of the WebSDR for those using mobile

(phone, tablet)

devices and the Chrome browser. It is

believed

that this works properly, but consider it to be experimental for now. Depending on your phone's configuration, the WebSDR audio may stop when your device goes to sleep/screen blanks: If this proves to be an issue, we'll look into adding code that will prevent this - but doing so will cause your battery to drain very quickly! Remember also that the

Firefox

browser works well with the WebSDRs, so you may consider using it, instead.

Links on the "Mobile" web interfaces to the other Northern Utah WebSDRs have been added.
The "

additional audio buffering

" button has been added to the main WebSDR pages. This increases the amount of the delay between the reception and your hearing of the audio, but it can make the use of the WebSDR more tolerant of Internet connections that are slow and/or subject to larger amounts of jitter

(e.g. mobile hot-spot, satellite, lower-speed "broadband", heavily shared connections)

. This button is present on the "mobile" versions

(near the bottom)

for the same reason.

Remember: Most audio drop-outs are due to other applications running on the computer/phone/tablet taking processor time and

NOT

because of network issues. Having the WebSDR running on a minimized window and running other processor-intensive programs is a great way to make the audio choppy!
26 April, 2018.

Comments:

A clock showing UTC was added to all servers in the (otherwise) blank space between the waterfall and the controls to minimize the overall web page size and to place it where it is easy to see. This clock is based on the time setting of the user's computer and

not

that on the WebSDR, which may not be precise. The code for this clock was "borrowed" from the KFS WebSDR. On 30 April the display of local time and an advisory about the clock's being based on the user's computer was added.
The firmware of the data link connecting the WebSDR site to the back haul has been updated to fix what the manufacturer called "stability problems". We are hopeful that the link will be more reliable.
20 April, 2018.

Comments:

Chrome users:

Earlier this week there were some very high winds throughout northern Utah. Since then, power line noise at the WebSDR site - which is intermittent by nature - is occasionally worse than it had been before. While we are working with the power company to find the source of this noise, it is largely up to us to locate it and report the location of the suspected hardware to the utility. As you can imagine, we need to find time to do this - and then hope that the noise is occurring at that same moment so that we can find it.
During 19 and 20 April, some network upgrades were being undertaken, causing some occasional outages.
Coincident to that, one of the wireless links connecting the WebSDR to the Internet started losing its mind, losing/regaining its authorization and dropping a lot of packets and occasionally going down altogether. Once there was time to address this issue, this link was reprogrammed from the ground up and it is hoped that it will behave itself!
19 April, 2018.

Comments:

The "630M-AM-120M" band has been shifted up slightly, now covering only down to about 519 kHz. This was done because there is now a dedicated 630 meter band receiver.
The "60M-49M" band has been shifted up, now starting at about 4700 kHz and covering to just above 6700 kHz. This was done because there are

(probably)

more signals of interest 6600-6700 kHz range than there were down around 4500 kHz - although I don't know offhand what those would be...
We have enabled ads on the WebSDRs - trying to keep them as unobtrusive as possible - to help offset the "fixed" expenses related to operating a WebSDR, such as power and site rental. One side-effect is that they may slightly delay the loading of the web page. To read more about why we did this, go the "Why ads?" article.
17 April, 2018.

Comments:

Bands on individual servers are now in order of lowest to highest frequency rather than by "high performance" receivers first and then increasing frequency.
The S-meter/waterfall gain settings on 40 meters that had been adjusted to compensate for the effects of the high-pass filter have been restored to their original values.
A/D converter gain values on the 630 meter receive system were adjusted to provide better overall signal range.
Minor name changes of several bands for better consistency.
15 April, 2018

. Comments:

Resolved issue:

The high-pass filter was rebuilt. This is used to block low-frequency

(<25 kHz)

energy picked up by the antenna in the form of electrostatic coupling that was causing problems at low receive frequencies - being particularly noticeable on the AM broadcast band as mains-induced hum. The original filter was found to have a broad, shallow "notch" at around 40 meters that had reduced signals by about an S-unit.

Resolved issue:

One of the sources of an intermittent problem where intermodulation distortion from AM broadcast would appear and disappear is believed to have been solved. This was probably due to a flaky solder connection in the "wideband" branch of the signal path where one or more of the notch filters used to reduce the signal level from strong, local stations would occasionally fail.

Upgrade - 15 Meters:

The 15 meter amateur and the 13 meter shortwave broadcast bands have been added to the "Green" server. This uses a relatively low-performance RTL-SDR dongle preceded with a custom-built, tightly-filtered frequency converter, but it was verified that just will hear the ionospheric noise floor when the band is closed.

Upgrade - 2 meters:

A south-pointing, 5-element 2 Meter Yagi is now being used for 2 meter reception. This Yagi points toward the Salt Lake City metro area where there is the greatest concentration of repeaters.

Upgrade:

The "Blue" server has been added, providing a few additional bands.

Change:

2 meter coverage has been moved to the new "Blue" server.

Upgrade - 6 Meters:

The bottom 1 MHz of 6 meters has been added, covered on the "Blue" server in preparation for the upcoming sporadic-E season. The antenna for this band is not yet properly mounted so it does not (yet) work very well.

Upgrade - 630 Meters.

The 630 Meter amateur band has been added to the "Blue" server. This receiver covers from about 389 to 484 kHz, allowing some NDB (Non-Directional Beacons) to be heard - particularly at night. Like 160 meters, the 630 meter band is mostly a "winter" band owing to the crescendo of static that accompanies the summer season. While this band is also covered on the "630M-AM-160M" band on the "Yellow" server, this receiver has much better performance. Note that this band can, at times, be badly affected by the intermittent powerline noise and intermod/antenna issues that we are experiencing.
11 April, 2018.

Notice:

There are/will be some occasional outages over the next week or so as our ISP does some equipment upgrades.
7 April, 2018.

There was an extended power failure in the general area of the WebSDR, caused by a pole fire, that resulted in an outage that lasted significantly longer than a UPS powering one of the microwave hops providing Internet connectivity could. Whether or not this had anything to do with our intermittent power line noise remains to be seen. This outage provided the opportunity to reconfigure the power system to mitigate the aforementioned power issues at the "next" site along the network.
27 March, 2018.

Comments:

Resolved issue:

It was discovered that the "10M BCN" receiver intended to cover

(most of)

the 10 meter "beacon" subband from 28.200-28.300 MHz was actually centered on 28.350. This receiver was retuned to a center frequency of 28.245 MHz

(this frequency chosen to include the NCXDF beacons at 28.200 MHz)

and immediately several beacons - including the "K7EMX" beacon located about 70 miles

(112km)

in Salt Lake and another beacon in Texas

(K5AB at 28.280 MHz)

- were heard, indicating that the receiver is now working properly.

Resolved issue:

It was noticed that the "= kHz" button doesn't work correctly when the CW mode is active. The problem had to do with the fact that unlike any other mode where the indicated frequency is that of the carrier

(or suppressed carrier on SSB)

the indicated frequency when using a CW mode is that of the

center of the passband

- or 750 Hz. Because of this offset, the "= kHz" button caused the frequency to jump, being rounded using that 750 Hz offset: After this offset was taken into account in the code, this problem was fixed.
24 March, 2018.

Comments:
21 March, 2018.

Comments:
19 March, 2018.

Comments:

Upgrade:

The opportunity was also taken to add an amplifier stage to the recently-added 17 meter receiver, allowing it to hear the background ionospheric noise.

Under investigation:

The TCI 530 antenna was given the "shake test" and it was verified that there is, in fact, some sort of intermittent connection. There is strong evidence that one of the active antenna elements is close enough to touch a guy wire when the antenna is vibrating due to wind.
Experimentally, 2-meter coverage was added to the system. At this time the antenna is not very good, so effective

system

sensitivity is quite poor. This site is approx. 70 miles

(112km)

north of Salt Lake City so the signals from the repeaters in the metro area are a bit weak with the current configuration. We are will be making some improvements to the antenna system which may make it more useful, but whether or not 2 meter coverage will be a permanent part of this system remains to be seen.
18 March, 2018.

Significant system upgrades/modifications:

Upgraded power:

A UPS with a built-in ferroresonant transformer was added to clean up the power and provide continued operation in the event of brief outages.

Upgrade - 160M:

Levels were readjusted and this receiver retuned and moved to a 192 ksps card to cover nearly 96% of the 160 meter band.

Upgrade - 80CW-80PH-75PH:

A "triple" receive module was constructed that cumulatively provides complete coverage of the 80/75 meter bands.

Addition - 80CW:

The the aforementioned module, this band was added, completing coverage of the entire 80/75 meter amateur band.

Resolved issue - 75PH:

The sound card was modified

(the "Aux" input was made available on the rear panel of the Asus Xonar DX)

to allow gain adjustment and the audio levels were properly set to fix the problem where the sensitivity at the extreme edges of the band was reduced by 10-15dB.

Upgrade - 40CW:

This band was moved to a 192ksps card and the center frequency re-tuned, now providing coverage to the entire 40 meter amateur band.

Tweak - 630M-AM-160M :

Levels adjusted, improving weak-signal performance

Tweak - 60-49M:

Levels adjusted, improving weak-signal performance - particularly during the daytime.
Upgrade - WebSDR Server #2

(Green)

was added, providing:

20M:

A dual high-performance 20-meter receiver module which, with a pair of 192ksps sound cards provides full coverage of 20 meters. The change to higher-performance, narrow-band receivers resulted in the loss of the

(incidental)

reception of the 22 meter shortwave broadcast band.

17M:

The 96 ksps sound card that had previously been used for

40CW

was installed in this server. Redeploying the original

80PH

receiver allows nearly 96% coverage of the 17 meter band. At the time of installation it was noted that this receiver was slightly deaf, so an amplifier will be added to its signal path during the next site visit.

30-31M:

Coverage of the 31 Meter shortwave broadcast and the 30 Meter amateur bands was added using a

(low performance)

RTL-SDR Dongle.
12 March, 2018.

There are some ongoing upgrades to the network infrastructure that provides connectivity to the WebSDR. Because of this work, there will be occasional network outages - typically of 4-10 minutes duration.
4 March, 2018.

A modification was made to the code to "brighten" the waterfalls, particularly during the times of day when the bands were "dead". At about this time additional "Passband Tuning" controls were added as well.
28 February, 2018.

This WebSDR was moved to its designated site - an old HF research site near the town of Corinne, Utah, about 70 miles

(94km)

north of Salt Lake City. The antenna at this site is a TCI-530, an omnidirectional Log-Periodic antenna - the same model as that used at the KFS Web Site at Half-Moon Bay, CA. Now that we have the initial system running, we will work to improve the overall receiver performance, add more bands and do more performance tweaks. While the person in charge of the data networks lives fairly close to the site, the one in charge of the RF infrastructure lives about 70 miles

(and a 75 minute drive)

away - a fact that can sometimes complicate dealing with the latter types of problems.
23 February, 2018:

Several items:
21 February, 2018:

The hard drives on the system started throwing errors were replaced with Solid State drives, necessitating a complete rebuild of the operating system. This process took some time and the system was unavailable during for about a day.
7 February, 2018:

The 40 meter receive system was reconfigured: A custom-built dual 40 meter receiver module was used to replace the two "Softrock Ensemble II" units that, together, had covered 40 meters. The Softrock Ensemble II units were then reconfigured to provide coverage of the bottom 96 kHz of the 160 meter band and chunk of the "80 meter" phone band.
17 January, 2018:

This WebSDR server was first made public from a testing location near Salt Lake City, Utah, U.S.A. and was used to test software/hardware configurations prior to the installation at a quiet receiver site in Northern Utah. This location was somewhat "RF noisy" with the amount of noise varying wildly at times, so it didn't hear particularly well - but it still did better than many home installations.

---
Additional information:
For more information about the WebSDR project in general - including information about other WebSDR servers worldwide and additional technical information - go to http://www.websdr.org
Back to the Northern Utah WebSDR