Northern Utah WebSDR
Frequently-asked questions
Here are a few questions that have/may come up, and some answers. They may not be
good
answers, but they are answers nonetheless. If you have a question about the WebSDR, check out the Q&A below to see if it's already been answered. Below are just some of the topic headings - click on one to jump to it - or just peruse the entire page.


---

Supporting the Northern Utah WebSDR:
"I've found this WebSDR system to be

very

useful for my HF operating - how can I support it?"

You can find out how to donate $$$ to help keep this WebSDR system online by

going here

: Any amount is appreciated - large or small.
"If I donate something, can I get a tax write-off?"
---
Weird noises and other things on the bands:


Figure 1:


Left: What the 40 meter waterfall on the WebSDR can look like when there are severe thunderstorms about, taken on 22 August, 2018 at about 1500MDT. The light, horizontal streaks are loud static crashes - and since they are broadband, they occupy the entire band at the same time!


Right:

A real-time lightning map (

blitzortung.org

) taken at the same time of the western U.S. showing the very high lightning activity within normal "skip" range of the daytime 40 meter band.
The left-hand picture shows only one obvious signal and two other weaker ones. Why was the band so devoid of activity? Would

you

want to be on the air with weather

(and the band)

behaving like this? (Do you

really

have to ask?)
Click on either picture for a larger version.


| | |
| --- | --- |
| | |
"I'm hearing a lot of static crashes on the lower bands

(160/80/75/40)

that make it hard to hear things. What the deal?"

When it is spring/summer/fall in the northern hemisphere, there is a greater likelihood of thunderstorms - and lightning can cause very loud static crashes. During the daytime, these bands are generally "shorter" - that is, useful to only a few hundred miles - so more distant thunderstorms may not be audible. At night, the scene is different: Not only are these bands propagating over greater distances, but in many locations heavy thunderstorms tend to occur in the evening, not only allowing static crashes to be propagated over a wider geographical area, but there are

more of them!

If you are interested in current thunderstorm activity across North America, I would suggest that you visit the Blitzortung web page (snapshot in

Figure 1

) showing "live" thunderstorm activity. This page represents data from

(typically)

volunteer weather observers. There are many map options on this page allowing you to check on thunderstorm activity across most of the world.
Figure 2:
This is an example of IMD showing up on a "clean" 40 meter signal. The signal is peaking about 10dB over S-9 with a little bit of QSB. The noise floor is about S-4 meaning that the peaks of this signal are about 40dB above the noise. Just to the right of the signal

(between 7250 and 7251)

one can see some energy that is related to voice peaks. Because the waterfall can represent a wide range of signal amplitudes it is quite typical for a transmitter with good IMD specs to appear to have some splatter - but careful comparison of the waterfall's color and brightness will reveal that in this particular case, that IMD is really quite weak.
There are two other signals in the waterfall above: A weak LSB signal at approximately 7253.5 kHz and a carrier with modulation on either side at 7245 that is likely China Radio International.
Several weak horizontal streaks from distant lightning storms can also be seen.
Click on the picture for a larger version.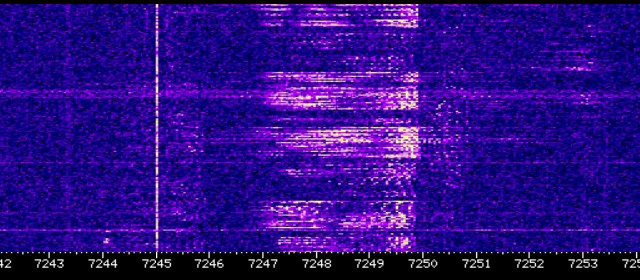 "I notice on the waterfall that a lot of stations seem to be 'wide', so I get on and tell them that - but they say that they aren't overdriving and/or using an amp. What's the deal?"

First of all, are you a member of the "waterfall police"? If so, don't you have something better to do?
Anyway, while it's sometimes the case that someone will overdrive their rig

(quite hard to do these days)

or overdrive their amplifier

(not as difficult to do)

it's actually quite rare that one sees a signal that is indicative gross overdriving of something in their RF transmit chain. With the waterfall, what you

can

see is something that has been going on for decades, but was either misdiagnosed or went unnoticed and that is the intermodulation distortion

(IMD)

on the transmitted signal.
Conventionally, the measured IMD of a typical amateur transmitter are in the range of -28 to -35dBc

(roughly 0.1% of the total transmitted power)

- that is, it will "naturally" produce low-level splatter that is 5-6 S-units lower than the peak signal: The use of an amplifier will naturally make the IMD higher because the contribution of the rig is added to that of the amplifier itself. What this means is that if there is a background noise of S-4, if the signal that you are receiving is at least 10-20dB over S-9 that these IMD products will become visible on the waterfall and can be heard as a bit of splatter.
In short: Just because it can appear on the waterfall display,

do not automatically assume that there is something wrong with the transmitting station

. Some newer radios have some means of reducing IMD, such as digital processing and/or a type of power amplifier that is designed to reduce IMD which can reduce the IMD to somewhere in the -40 to -50 range.

Figure 2 shows a typical example of a "pretty clean" signal appearing to have splatter.

In truth, all transmitters have a degree of splatter, but in the example shown its spectral purity is well within the accepted limits.
---
Features of the WebSDR:
"Why is there a 'Notch1'

and

a 'Notch2' setting?"
"Tell me about the 'CW Peak' filter - and what's the 'Ref Tone' button for?"

The "CW Peak" filter is a moderate-Q band-pass filter that may be manually tuned to a specific frequency to aid in the copying of CW stations during heavy band activity or high noise conditions and reduce "ear fatigue.. As with many implementations of a CW Peak filter, this isn't a "brick wall" filter in that it doesn't totally block signals off frequency - which is helpful in maintaining "band awareness" should another station on a nearby frequency call you.

To disable:

Set the slider to the far left so that the displayed frequency changes to "Off".
The "

Ref Tone

" button, when checked, will activate a tone with a frequency that corresponds

exactly

to the peak frequency of the CW Peak filter and can be helpful in adjusting it.
"What are the 'SAM-U' and 'SAM-L' buttons for?"

The "

SAM-U

" and "

SAM-L

" buttons enable "Synchronous AM" detection. With a normal AM detector, the signal's carrier frequency is required to demodulate the audio - but if this carrier is disrupted somehow by fading, severe distortion of the audio can occur. With synchronous AM, this carrier is recreated locally, eliminating one potential source of distortion.
Typical AM signals contain

two

sidebands - the upper and lower - and these buttons allow the selection of either. In many cases, there may be some interference on one sideband that is not present - or as bad - on the other, and one may select the one that that is the best.
Just below the numerical frequency display you will see, when Synchronous AM is enabled, a line that says "Sync AM stat:" that will show

LOCKED

or

UNLOCKED

to indicate whether it has locked onto the carrier of the signal being received. Also on this line is the parameter "

Tuned freq:

" that shows the actual calculated

carrier

frequency of the signal being received

when it is locked

- but note that this frequency display's accuracy

is limited to that of the receiver at the WebSDR server itself

. The final parameter is "

NCO

" which shows the frequency of the carrier lock mechanism - which will be discussed briefly below.

Limitations and quirks of the "SAM" modes:

The architecture of the WebSDR itself does

NOT

include the ability to do synchronous AM, so this is accomplished by intentionally mis-tuning the AM signal so that its carrier is heard as a tone. In software, the frequency of this tone is detected and locked onto

(the "NCO" frequency noted above)

and the audio is shifted to make it sound natural. What this means is that "SAM-U" actually uses the USB mode and "SAM-L" use the LSB mode to pull this off. Because raw I/Q audio is

not

available from the WebSDR, we can use only one sideband at a time which explains why double-sideband synchronous decoding isn't available - and why the limitations described below exist.
Because the Northern Utah WebSDR is configured for just 8 kHz of audio sample rate, the audio passband is actually from about 0 to 3.8 kHz or so and that means that

everything

of the AM signal being synchronously demodulated - include the carrier - must be placed within this frequency range. Because the carrier must be present within the passband, the displayed frequency is such that the carrier itself will be present as an audio tone of about 150 Hz before synchronous demodulation. Because the audio must be shifted down by 150 Hz, the upper audio frequency cut-off is also shifted down by this amount.

(Comment: Some of these constraints could be relaxed if the Northern Utah WebSDR's audio bandwidth was increased from 8 to 16 ksps - but we simply don't have the bandwidth to do this and maintain the current maximum number of users.)

The "SAM" modes allow the actual carrier of the AM to be anywhere from 55 to 1000 Hz into the passband with, as noted above, the normal offset being assumed to be about 150 Hz. When in SAM mode, you can tune the receiver up and down, but the carrier itself

MUST

remain within the audio passband of the filters as you do so. As noted above, the audio must be shifted down by the amount displayed in the "NCO" display - but this also means that if you have the band-pass filters set to full width using the brackets on the waterfall or the "PassBand Tuning" buttons, shifting it by 1 kHz means that you will also lose the top 1 kHz of your audio frequency response.

Note:

The reason that you might want to off-tune the SAM is to accommodate a net or round table with multiple stations that may not be on the same frequency. By setting the displayed frequency to be near the edge of the variation in the stations' frequencies, you can minimize the amount of retuning that might be necessary - but there will likely be distortion as noted below.

If you are listening to a net with stations transmitting AM that may vary in frequency

:

If you are listening to a net in which there are stations using older radios that may not be on the same frequency, you may wish to "offset" tune slightly so that instead of relying on all of them being withn a few 10s of Hz, they can vary by several hundred Hz and still be within the lock range.

If using "SAM-U"

: Tune

below

the nominal frequency by 500 Hz or so. That is, if the nominal frequency of the net is

3880 kHz

, if you tune to

3779.5 kHz

, signals that are within about 450 Hz of 3880 kHz will be within lock range.

If using "SAM-L":

Tune

above

the nominal frequency by 500 Hz or so. That is, if the nominal frequency of the net is

3880 kHz

, if you tune to

3880.5 kHz

, signals that are within 450 Hz of 3880 kHz will be within the lock range.
It is recommended that you zoom in

fully

("max zoom")

to be able to see the frequency of the carrier of the transmitting station to aid in retuning if its frequency is too far off for frequency lock to occur.

REMEMBER:

It may take a second or two for the system to lock to the the carrier when it begins transmitting.

As noted above, because of limitations of the WebSDR architecture, the full frequency and phase relationship of the original RF signal is simply not available. What this means is that if you have tuned the signal such that the NCO is reading 1 kHz - and the SAM decoder is shifting the audio down by 1 kHz to make it sound right - that the audio that is "below" that carrier frequency of 1 kHz is still present, but it will be "folded back" and spectrally inverted, causing audible distortion. This can be "fixed" two ways:

Retune the receiver so that the NCO is showing a frequency of 200 Hz or less

. This will minimize the amount of "folded back" spectrum and distortion. Again, this works well for broadcast stations that are on a consistent frequency, but if you are listening to a group or net where there are multiple transmitters taking turns

(e.g. an AM net)

that are

NOT

all on the "correct" frequency, you will keep having to retune the receiver.

Adjust the "PassBand" tuning or the on-screen passband slider nearest the AM carrier and move it closer to the carrier to remove the "extra" portion of the signal.

Again, this won't really help if you are trying to listen to a net where everyone is on their own frequency.

Some GUI actions may cause momentary loss of carrier lock.

For whatever reason, doing things like zooming in/out on the waterfall and some other actions can cause the carrier to lose lock briefly. Of course, retuning the frequency

will

require lock to be re-established!

As with any Synchronous AM demodulator, it can take some time - perhaps a second or two - to "lock" onto a signal. Also, fading and/or interference can cause it to lose lock occasionally.
"I see that in CW, USB and LSB that the there are 1 and 10 Hz tuning steps - what and how?"

The WebSDR itself natively tunes in 31.25 Hz steps, but because we can know

exactly

where the WebSDR server itself is tuned, we also know how far it might be off frequency - which will he half of this, or 15.625 Hz. By using the same frequency-shifting techniques used with the Synchronous AM modes, we can "simulate" as much resolution as we wish! Practically speaking 1 Hz is probably overkill as the receivers at the WebSDR server will drift more than this with temperature.

Because there is frequency shifting, the audio passband is affected, as with the Synchronous AM modes, but since this shift is, at most +/- 15.625 Hz, it is completely inaudible. This does mean that in Synchronous AM mode that the smaller frequency tuning steps are

not

available as the same frequency shifting used for this mode is the same one used for the finer tuning resolution - but this is pretty much irrelevant in SAM mode, anyway.
Because the there are

two

tuning mechanisms - the remote WebSDR server, which tunes at 31.25 Hz steps and the local frequency shifting, you may note that if you tuning the frequency quickly and are listening to a CW note that there may be a time difference between the tuning of the WebSDR server and the local frequency as manifested by what sounds like a bit of backlash. While an attempt has been made to synchronize the two events, it is not perfect and there's really nothing that can be done about it. Typically, this brief shift will be 15.625 Hz or smaller, but it could be slightly more than that if the frequency is being adjusted quickly and/or if there differing delays in the arrival of the audio via the Internet.
"Why do the tuning steps change when I change modes?"


In SSB and CW modes, fine tuning steps are desirable, but in AM - and especially FM - they are not needed, so coarser

(larger)

steps are used -

so there!
"When I listen on SSB

(USB/LSB)

the audio sounds "wider" on the WebSDR than on the rig that I have at home and I hear more 'splatter' from nearby stations? Why does the WebSDR have such sucky filters?"
---
Computer and usability issues:
"I've been using the Chrome browser for a while and there's suddenly no audio

(or some gaw-dawful noise)

on the WebSDR? What's the deal?"

Is your computer's audio - or the tab in Chrome - muted? Go to another web site that you

know

has audio

(such as YouTube)

to make sure that it works there.
Google made changes to Chrome in April, 2018 that may have disabled audio playback, but we have a web page just for this situation - read more by going to the "

Fixing Chrome

" page.
If you wish to use Chrome with your mobile device

(phone, tablet)

I strongly suggest that you, too, read the "

Fixing Chrome

" page!
In early September 2018 a new version of Chrome was released that seems to have compatibility issues with the way the audio is handled by the WebSDR, causing very loud white noise - either when you first go to the WebSDR page or after having been there a while.

The problem with the noise/waterfall issues was fixed with a mid-December 2018 release of Chrome. If you have this problem, please update your Chrome browser to the newest version!
Remember that you

don't

have to use Chrome: Firefox works very nicely with the WebSDR!

"I'm using my computer/phone/tablet/piece of slate and the web page seems to load, but I never hear any audio and/or see the waterfall. What's the deal?"

The first thing to check is to see if you have an seriously out-of-date browser and/or computer. There are some functions in the code embedded into the web page that require "new-ish" browsers

(e.g. newer than about 2014-2015, maybe...)

Your computer/browser may be blocking scripts: The audio and waterfall portions of the code use HTML5 and Javascripting that

must

be able to run for either to work. This could be a browser setting or something in your device - perhaps a security setting - that blocks such things. This is most common when using a company-owned

(e.g. work)

device.
Your network may be blocking something. The Northern Utah WebSDR Server #1 (only) can be accessed using either the standard HTTP port 80, or it could use its "normal" port 8901 - so it would be worth trying both

(e.g. http://websdr1.sdrutah.org:8901 or just

http://websdr1.sdrutah.org:8901

)

. Your network's security infrastructure could be "inspecting" packets and not like the audio and/or waterfall data that is being sent and/or the data sent from your device to control the WebSDR for things like frequency, mode, waterfall settings, etc.
There are some instances where, for no obvious reason that can be fathomed, it just "ain't gonna work" - at least not without getting a networking nerd involved.
"I often use a WebSDR when on a round table or net - but it's a pain to mute the WebSDR when I transmit to avoid being driven crazier by the echo. Is there another way?"
If you are using Safari, make sure you press the "Audio Start" button that appears just above the waterfall.
Once in a while a new version of a browser comes out that "breaks" things

.

If that happens, it may have already been fixed and check for a

newer

version. If you are running a

really old

version of Safari, update it!
Some Apple products have a quirk when it comes to getting sound from the WebSDR, as explained in this quote from the FAQ at WebSDR.org:

"An issue with iPad (-like) devices is that they have two mute switches: one which affects music, youtube, etc., and one which affects system sounds (like mail notifications bleeps).
Somehow, iOS treats the WebSDR audio as the latter. So please check that you haven't accidentally muted the system sounds. On some devices this is a software switch, on others it's a physical hardware switch."

Try using a

different

browser:

Firefox

seems to "play nice" with WebSDR, as do most versions of

Chrome

- and both of these browsers are available for many Apple platforms.
If you continue to have problems,

visit this page

for suggested work-arounds.
---

"Why is it this way?":


The OpenWebRX software (

link

) is an open source remote SDR with a web-based interface - but it is not really a replacement for what we run at the Northern Utah WebSDR. Even though it has many more "features" than the PA3FWM WebSDR that we run, we choose to stay with the seemingly less-featured WebSDR software. You would be correct to ask "why"?

OpenWebRX doesn't scale well with large numbers of users.

The Northern Utah WebSDR frequently hosts more than 200 users on a single WebSDR server: The internal architecture of OpenWebRX simply doesn't allow this with modest hardware.

The vast majority of users are interested only in hearing signals on the band.

While OpenWebRX has a lot of bells and whistles - which is part of the reason why it's difficult to scale to a large number of users - very few users actually care about doing anything other than "just listening".

How do we know?

We ask them, and they tell us!

BTW, the Northern Utah WebSDR

does

have some wideband receivers that use the OpenWebRX interface

(e.g. the KiwiSDRs)

and have a lot of bells and whistles like RTTY, PSK, FT-8, SSTV and Morse decoding - to name but a few - but relatively few people use them as compared to the WebSDRs.

The vast majority of users only care about the amateur bands.

There might be the temptation to offer large swaths of HF for reception of SWBC stations, but again, most users don't care at all about that.

Rather than have a "broad as a barn door" receivers that covers a lot of spectrum that performs only marginally well in doing so, we have amateur band specific receivers with good input filtering to prevent degradation from other strong signals across the spectrum so that they are able to "hear everything that there is to hear."
For those interested in SWBC listening, many of these bands are already covered by our WebSDR #3

(Blue)

- not to mention the KiwiSDRs as well. Again, we keep track of how many people use those receivers and it's a very small percentage of the total.
"If I zoom in tightly on the location of the Northern Utah WebSDR on the map on the bottom of the page at the WebSDR.org web site I see that there are several different WebSDRs, each in a different location on the map, very close to each other. What's the deal?"

This map uses the "grid square" information to show the locations of the WebSDRs, but since the servers at the Northern Utah WebSDR are all in the same place, only one of those markers would appear - and which server, exactly, showed up on the map seemed to be entirely random. To spread them out, only the "Yellow" WebSDR's location is correct, with the other WebSDR(s) being one "sub-grid" off from that of the main server.
While zoomed out, you will still see only one WebSDR on the map, but you will see all of them if you zoom in far enough..

---
"Why don't you support

(put a mode or feature here

)?":
"The WebSDR's receivers/antenna would be awesome for a

(Skimmer, WSPR receiver, other cool thing)

- why don't you do that?"

It took a lot of effort to get the current suite of receivers up and running - and there's still a bit of work to do before we really consider adding lots more bells and whistles. Having said that, we are keeping an eye on ways to interface with other programs/devices to allow future integration of things like CW skimmers, propagation analysis tools and the like - and the system was designed from the outset to allow this.
One thing that we'd like to be able to leverage is the fact that we already have, for many of the amateur bands, "raw audio" of 96 or 192 kHz bandwidth that could be sent over the local network to another server for such processing, independent of the existing receivers - but this will take a bit of research and work to set up. Whatever we do, we don't want it to have an adverse impact on the existing system. Having said this, there are many "hooks" in the system that could allow separate receivers to be implemented.
There

is

a totally independent WSPR decoder/monitoring receive system on site -

See below for more information

. Presently, it has been configured to monitor the 630 and 160 meter bands

(plus a few others)

, reporting with the callsign "KA7OEI-1". It is possible that this may include other bands sometime in the future, but this will depend on the available resources.
"How about more bands.

I want more bands!

"
"Pocket TX/RX"

(by Dan, YO3GGX)

is an all-in-one app that allows the convenient use of many web-connected receivers and transceivers around the world - with the consent of those that actually operate these sytems.
We have been asked to consider allowing this app to use the Northern Utah WebSDR, but for the time being we have declined to do so. By its nature, the Pocket TX/RX app somewhat "abstracts" the user from the remote radio system itself. In other words, to the typical user, they consider the use of something like a WebSDR to be akin to using a

feature

of the app, but they may not realize that the remote radio system that they are using may also be user-supported that is unconnected to the app itself. In some cases, the operator of a WebSDR or other type of radio runs it as a hobby and simply "foots the bill" and has kindly allowed its use with this app - and we applaud them for their ability to do so - but doing this is simply not possible at the Northern Utah WebSDR considering the nature of the site, its location and necessary infrastructure and all of the ongoing maintenance ane expenses that such a system incurs.

We believe that such abstract use

(e.g. using an app rather than the WebSDR itself)

would reduce the probability that the user would know to help support the remote radio system being used by the application - be it a WebSDR or other type of remote radio. As you might expect, the support from any ads that might appear in the app would go to the author for the support of this fine product,

but not toward the radio system that is being used

. It is by direct user support that we can keep the lights on here at the Northern Utah WebSDR.
It appears that the CatSync software may process the frequency as a string of an expected length rather than as a numerical value and the extra digit to the right of the decimal

(e.g. 1Hz frequency resolution)

throws it off.
As a work-around, you can add "

?10hz

"

(excluding the quotes, of course)

to the end of the URL to force a display with just 10 Hz resolution.

---
System quirks and a few random things:
---
KiwiSDRs at this site:


Important:
Please use the WebSDR and
not
the Kiwis on frequencies/bands that are
already
covered by the WebSDR for casual use.
Read on to find out why.

See also the KiwiSDR FAQ - link

How do I connect to a KiwiSDR at this site?

Go to kiwisdr.com/public to find a list of publicly-accessible KiwiSDRs and to

rx.linkfanel.net

for a worldwide map - including the KiwiSDRs at the Northern Utah WebSDR site.
You can connect to the KiwiSDR system at the Northern Utah WebSDR using

this link

. Again,

please refrain from using a KiwiSDR for a frequency that is already covered by the main WebSDR servers!
The KiwiSDRs have many more features than can possibly be covered here - please read the
KiwiSDR FAQ
at this web site as well as the
KiwiSDR Quick start guide

(link)
and follow some of the links within for more information than you probably want.
---
Additional information:
For general information about this WebSDR system - including contact info - go to the about page.
For the latest news about this system and current issues, visit the

latest news

page

.
For technical information about this system, go to the

technical info

page .
For more information about the WebSDR project in general - including information about other WebSDR servers worldwide and additional technical information - go to http://www.websdr.org
Back to the Northern Utah WebSDR landing page